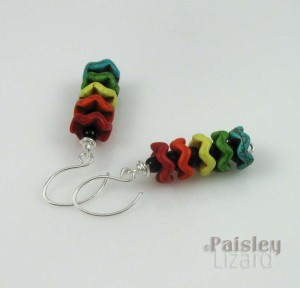 Erin Prais-Hintz has come up with yet another unique inspiration for the We're All Earrings monthly design challenge. For the May theme, she shared stills and video from a couple of dance troupes performing the tango set against a rainbow of urban backgrounds.
The dancers' outfits match the colors of the walls behind them, and are constantly changing as they dance off screen and reappear. As Erin noted, the dance moves are at once fluid and filled with tension.
My initial idea for an earring design was to create disc beads with ruffled edges, using polymer clay. I wanted to evoke the image of the hem of a dress fluttering as the dancer twirls and turns.
I also wanted to incorporate the rainbow of colors from the dancers' outfits and the scenery. So I had this grand plan that involved micro-Skinner blends. It was going to take hours and hours to make these rainbow striped beads.
And then, I ran into my local Michael's Arts & Crafts store to stock up on polymer clay while it was on sale. While I was there I naturally had to take a trip down the bead isle. I was already in the neighborhood, so why not?
And guess what I found? Strands of ruffle-edged howlite beads dyed a rainbow of colors. They weren't exactly the shape and size I had in mind. But as I looked at them, I saw a modification of my initial idea. One that would save me hours and hours of color blending.
I separated each colored ruffle bead with a small jet black glass bead and stacked a rainbow on sterling silver wire. I tried just stacking the ruffle beads, with no spacers. But they needed a teeny bit of separation, just as the dancers maintain a distance with their taut frames.
I also thought about attaching each ruffle via individual wire loops, so each color would dangle from the next. But in the end, that seemed like too much movement for the tension you see in the dancers' bodies. Having the stacked beads move as a single unit seemed a better fit.
So, that's my design for this month's challenge on the Earrings Everyday blog. Be sure to stop by today's reveal post to see what Erin created from this inspiration and then follow the links at the bottom of her post to see earring designs from other artists inspired by this month's theme.
And what, you may ask, did I do with all the time I saved not making polymer clay beads? Did I create more jewelry? Did I sweep my floors and wash the dishes? Did I tackle that pile of to-be-shredded credit card statements? Nope. I took a nice long nap.