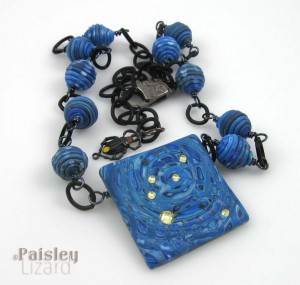 The designers at Art Jewelry Elements chose "fireflies" as the theme for the summer art jewelry design challenge.  The challenge was to create jewelry, or jewelry components, inspired by fireflies.
I remember watching fireflies, or lightning bugs as some call them, flash at night in the summer. While the cicadas sang. They've been symbols of summer to me for as long as I can remember.
When I was very young, I thought seeing lightning bugs flash meant it was going to rain.  I later learned those flashes of bioluminescence are actually booty calls. Literally. Fireflies light up their lower abdomens to attract mates. Different species have different patterns of flashes, so they can keep track of who's who.
Not all species of firefly display bioluminescence. But in those that do, even the larval fireflies can flash. We called those "glow worms."  Like in the song of the same name, by the Mills Brothers.
Shine little glow-worm, glimmer, glimmer
Shine little glow-worm, glimmer, glimmer
Lead us lest too far we wander
Love's sweet voice is callin' yonder
Shine little glow-worm, glimmer, glimmer
Hey, there don't get dimmer, dimmer
Light the path below, above
And lead us on to love
I haven't seen fireflies since moving to an urban jungle.  It's hot and humid enough here for them, but every place they might have been is paved over.  If a field where fireflies live gets destroyed, they don't migrate. They just disappear. That, and light pollution, are two suspected causes of firefly declines.
The Jewelry Designs
The first thing I thought to create was a firefly pendant. I have a tendency to be very literal when initially interpreting a design challenge. I haven't quite gotten into the habit of "seeing" the inspiration for all it can be right out of the gate. I'm a work in progress.
While I had fun making a larger than life and very literal interpretation of the firefly theme out of polymer clay, it didn't quite work as a pendant. I put a locking pin back on it and turned it into a brooch. Ta-da!
Realizing I hadn't exactly brought my A-game to the challenge yet, I got back to work. This time I looked at images of firefly swarms, and some artist renderings, and decided to use polymer clay to create a summer night sky pendant and coordinating beads.
I initially planned to string the pendant and coordinating beads, so I put a tube bail on the back when I was making it. Later, when I was assembling the necklace, I decided to go with beaded links and chain. Adding some wire to the bail to connect to the chain was tricky. But in the end, the necklace lays and hangs perfectly.
I painted a handful of brass beetle charms and connectors, intending to use them as dangles or something on the necklace. I did add one of the connectors to the end of the chain extender on the necklace. The rest, I used in some earrings.
This challenge theme was a lot of fun. And it reminded me how much I miss seeing fireflies light up the summer night. This bit of lyrics from Long Hard Road by the Nitty Gritty Dirt Band often runs through my head in the summers here.
'Cause those city lights ain't all that bright, compared to what its like
To see lightning bugs go dancin' in the rain.
I hope you've enjoyed my firefly designs. Please be sure to hop over to the contributors' and other guest designers' blogs to see what they have created for this wonderful summer theme.
Guest Designers:
Melissa Trudinger – https://beadrecipes.wordpress.com
Mary Detray – http://www.brassrabbitstudio.com/blog
Keren Panthaki – https://vasdea.wordpress.com
Tammy Adams – http://www.paisleylizard.com/blog/  (That's me!)
Veralynne Malone – www.veradesigns.blogspot .com
Terri Del Signore – http://artisticaos.blogspot.com
Heather Powers – http://www.humblebeads.blogspot.com
Susan Delphine Delaney – https://susandolphindelaney.wordpress.com
AJE Team:
Jenny Davies-Reazor – http://www.jdaviesreazor.com/blog
Lesley Watt – http://www.thegossipinggoddess.blogspot.com
Niky Sayers – http://silverniknats.blogspot.co.uk
Caroline Dewison – http://blueberribeads.co.uk
Jen Cameron – http://www.glassaddictions.com/blog