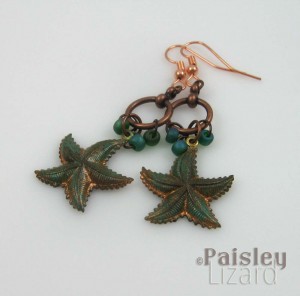 The inspiration for this month's We're All Ears earring design challenge was a series of vintage illustrations of tide pools. The colors in the illustrations were muted and warm. Which is my happy place when it comes to color.
However, tide pools can also be bright and vibrant, depending on the critters in them. I was inspired to design earrings in both color palettes. And I played with some metal paints in the process.
Tide pools are an almost ephemeral marine habitat in that many only exist as such at low tide. They're little pockets of salt water, surrounded by rocks, temporarily separated from the ocean each time the tides go out. And then they effectively disappear as the tide comes back in. There's something poetic about that, don't you think?
The animals that inhabit tide pools are, for the most part, specially adapted to cling to the rocks so they are not washed out to sea with the tide. Full-time residents of tide pools also have to be tough to survive the dramatic changes in temperature, salinity, and dissolved oxygen (the stuff they breath) that occur daily and seasonally. They include mussels, sea urchin, starfish, sea anemone, scallops, snails, and other molluscs.
You have to admire their tenacity and their ability to thrive in seeming adversity. Plus, who doesn't love sea shell and starfish jewelry? I don't know what it is about sea shells and star fish and urchins and such that we find so enchanting. Maybe they remind us of our ancient aquatic origins?
For this challenge, I pulled out of my stash a bag of raw brass charms I bought on impulse from B'sue Boutiques earlier this year. I didn't have any design plans in mind, but it never hurts to stock up on versatile jewelry supplies like that.
I knew I wanted to color them or distress them, to go with the color palette in the inspiration images as well as my memories of tide pools I've seen in person. I used some Vintaj Patinas®, which are technically opaque inks designed for use on metal.  By blending different colors, I was able to get both a copper with blue-green patina effect, and some soft mottled pastel colors on my charms.
I also used a couple of sand dollar components I made from polymer clay earlier this year. I don't know if sand dollars are found in tide pools. I guess it depends on whether the pools have sandy bottoms?  (Hang on. I'm having a Minion moment. Bottom. Bahahahaha!)
I meant to make another pair, using some sea shell and fish charms I distressed with Swellegant patinas. But then I misplaced them because I decided I needed to clean up my work space. I should know better by now. I am a piler, not a filer, when it comes to organization. I have a pretty reliable mental map of where things are in what looks like chaos. But the moment I put them away in what seems like a logical tidy spot, they are lost. Just like when a small child thinks you disappeared during peek-a-boo.
So, that's it for my tide pool-inspired earrings today. When I find those other charms, I'll let you know. Many thanks to our hostess, Erin Prais-Hintz, for yet another fabulous inspiration theme. I can't wait to see what's on tap for July. Until then, be sure to stop by the Earrings Every Day blog to see Erin's lovely designs. And then visit the links at the bottom of her post to see contributions from the other designers inspired by this month's theme.