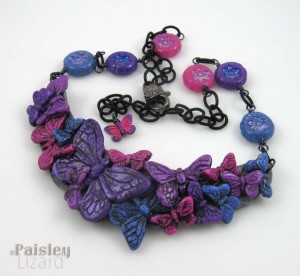 The media for the Self-Representing Artists in Jewelry Design July challenge were metal clay and polymer clay. I went with polymer clay.  And kept going and going.
I got started creating with polymer clay as a substitute for metal clay. As in, I didn't have the appropriate space for the tools used in metal clay, so I settled for polymer clay.
Over time, I've learned to love polymer clay for its ability to mimic the appearance of practically any substance, and it doesn't feel like I've settled for a lesser medium. At all.
Of course, I still want to play with metal clay. And soldering. Etching. Sawing. Lampwork. The list goes on. So many jewelry techniques and media, so little time and space. Plus, I haven't even scratched the surface of the many and varied ways in which polymer clay can be used. The possibilities keep me awake at night. Truly.
For this challenge, I wanted to create a tour de force piece that showcased the versatility of polymer clay for mimicking other things. Some faux lampwork, faux pressed glass, faux stone, faux ceramic, faux wood, faux coral, faux bone …
Setting aside the issue of how to cram that many different types of beads into a single design, there was the matter of having enough time to work through all those recipes. I only work in my polymer clay studio (which is also my kitchen counter) on weekends. Because I have a desk job that occupies my time on weekdays.
So, I signed and deposited my reality check, and decided to take a different approach. I've been feeling "bugged" this summer. It started with a firefly theme design challenge on Art Jewelry Elements last month. Which led to a small line of beetle brooches.
Then I saw that the theme for July in the B'sue Boutiques Creative Group on Facebook was "Beautiful Butterflies, Birds, and Bugs."  I don't have any butterfly jewelry in my shops. I have beetles, some dragonfly pieces. A couple birds. But no butterflies. Time to remedy this oversight.
Earlier this year I participated in the B'sue Boutiques Build a Line design challenge where I learned some basic concepts for building a cohesive look to a jewelry collection. Before that challenge, I would have made this one purple, pink, and periwinkle butterfly necklace and promptly moved on to some other design idea. But I've taken to heart the lessons I learned and decided to keep going, trying it in a variety of colors and metals.
And I didn't stop there. Another lesson learned was about tiers. Taking the design concept in a statement piece and making it more accessible in smaller pieces. Or making pieces that can be worn as sets, for those who like their necklace, earrings, and bracelet to match.
I'm still working out some kinks in the bracelet and earring designs, so I don't yet have as many sets of those. But the design for the smaller necklace, with a trio of butterflies on a rectangular pendant, is working well.  And I'm getting more efficient in my production process for making the coordinating accent beads.
By the way, the faux pressed glass and rustic beads in these necklaces are based on two wonderful tutorials from The Blue Bottle Tree: Faux Glass Effects in Polymer Clay and Rustic Beads and Components.  I've mentioned these both more than once. You'll likely hear about them again. They're so versatile I use them in many designs. In summary: well written, beautiful illustration, endless creative possibilities.
I have a growing list of color combinations and faux finishes to try with these designs. It's getting a bit challenging to stay focused because I have ideas for soooo many other things. But I am determined to work through this particular design concept until I have built a complete line of butterfly jewelry.  I think I am off to a good start.
Thanks for stopping by and having a look at my latest jewelry designs. If you'd like one for your very own, please visit my Etsy shop.