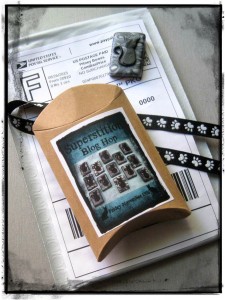 A quick post to let participants in the Superstition Blog Hop know their Lucky Black Cat focals are on the way.
Each little black cat bead, pendant, or cabochon was carefully wrapped in bubble wrap and placed inside a brown craft paper pillow box. The pillow box is decorated with the official Superstition Blog Hop badge.
The Lucky Black Cat focals are on their way to jewelry artists in 14 states and one foreign country (Canada) via First Class Mail. 
I even figured out how to print USPS First Class postage labels on-line. Which saved me a few pennies per package. It also meant I was able to get them mailed about a week earlier than planned because I didn't have to wait for the weekend to go stand in line at a Post Office.
Before I took the packages to the mail box, Chief Inspector Mango gave them the once-over to be sure everything was securely taped and properly stamped.
Design Consultant Cloud was instrumental in designing the pillow boxes and choosing the decorative black ribbon with paw prints. However, he declined to pose with any of it, as he was in his new office waiting for a very important snack. Er, phone call.
And, hey! Here's a suggestion for a perfectly painless post. When your Lucky Black Cat focal arrives, take a photo and share it on your blog. It doesn't have to be catalog quality. Or a selfie, even. Tell your readers you will be using it in a jewelry design for the totally awesome Superstition Blog Hop and invite them to stay tuned for the reveal of your amazing design on Friday, November 13th.  Consider it a teaser, promo, trailer-type post to peak interest.  And an opportunity to dust the cobwebs off if you've been neglecting your blog of late.
As of this writing, I have 5 beads and 3 cabochon/pendant focals remaining. If you didn't win one, you still have time to order one at the super special discounted (practically free) price of $8, which includes shipping. Just send me an email to PaisleyLizardDesigns@gmail.com and let me know your style preference (bead, cab, pendant). It's first come, first choice.
Any Lucky Black Cat focals not claimed by the Superstition Blog Hop participants by August 30th will be available in my Etsy shop for $12 plus shipping. These are limited-edition, handmade by me from polymer clay, in my original design. To quote Smash Mouth: "So don't delay, act now, supplies are running out."
I am looking forward to seeing these Lucky Black Cats used in jewelry designs. This is my first time making components for other than my own use and it's exciting to consider what will happen to them in the hands of so many talented jewelry artists. Stay tuned for the grand reveal and hop on Friday, November 13th!