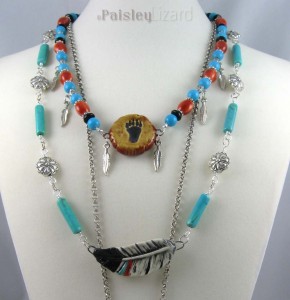 When Moriah Betterly announced she was making more ceramic jewelry components and hosting another design challenge, I signed up. I didn't know what the components would be, and that didn't matter. I had fun doing the last challenge, and didn't want to miss out on limited edition components.
Moriah officially stopped making ceramic jewelry components earlier this year to focus on other creative ventures. Luckily, she has decided to occasionally make small batches of components and continue to host jewelry design challenges through her Blu Mudd Facebook group. 
When I learned the components were to have a Native American theme, I was glad I decided to join the challenge. And when Moriah revealed the components, I was thrilled. She designed a large Zuni bear fetish pendant, a painted feather connector, and a smaller round connector with a bear paw design.
Although we were allowed to use the three components separately, I opted to incorporate them into a single jewelry design. That was my challenge-within-a-challenge for myself. I enjoy design challenges and the opportunity to stretch.
Moriah used a sort of mint green glaze on the top half of the bear. At first I didn't think it would work with turquoise, and planned to use amazonite or aventurine. However, in addition to "natural" turquoise, which comes in a wide range of blues and greens, I also have reconstituted turquoise and turquoise-dyed howlite. So, I was able to find some beads that worked with the green on the bear and the blue stripe on the feather.
I was going to use some jasper to bring the reds of the components into the necklace. And then I found a strand of ceramic beads glazed in a warm red that coordinates with the glazes Moriah used.
My initial idea for constructing the necklace was a single-strand with a ladder-style center.  That was before I received the components and got a better idea of their relative sizes and the placement of the loops. I could have made that ladder design work, with some modifications. But a different idea came to me as I was photographing the components.
I decided to go with a layered look, giving each component a position as focal in a separate strand of the necklace design. I could have made three separate necklaces that could be worn together. But remember, I wanted to do an all-in-one design.
I wanted each strand to have a different visual weight, with the bear pendant anchoring the design. The bear hangs from un-embellished oxidized silver rolo chain. The middle strand, using the feather connecter as focal, has beaded links that alternate between turquoise barrels and antiqued silver flowers. At the top is a strand of turquoise, red, and black beads, with the bear paw connector at the center, and antiqued silver feather dangle accents.
I used a pair of 3-to-1 connectors to attach the strands to the clasp. This keeps the strands separate and allows the necklace to lay flat without bulk at the back of the neck.  It's comfortable to wear and gives a layered look without getting tangled the way three separate necklaces might. I'm quite happy with how the mix of bluer and greener "turquoise" beads works with the glazes on the components.
If I can find a black crew neck sweater I like, I might be seen wearing this necklace during the winter. Or, I might take it apart and make three separate pieces of jewelry and put them in my online shop. This design wasn't terribly popular with the voters on Facebook. I think it tied for last place among the 17 entries. Maybe that doesn't mean anything is wrong with the design except that it didn't wow anyone compared to the competition. Or maybe it means I need to take a more critical look at it.
That's part of why I like design challenges. Most of the ones I participate in don't involve voting or prizes. But they are all opportunities to try something new or different. And this type of challenge, where everyone starts with the same components and adds their own touch, is great for helping me see something in many different ways. Which helps me be more creative with future designs.
Thanks for stopping by. I don't know what my next jewelry design challenge theme will be. I am always on the look out for another opportunity to grow as a jewelry artist. I hope Moriah has plans for another batch of components later this year. In the meanwhile, I have lots of other beady goodness in my stash and will keep making jewelry.
P.S. You can see photos of all of the designs, with the names of the designers, in this album on Facebook.