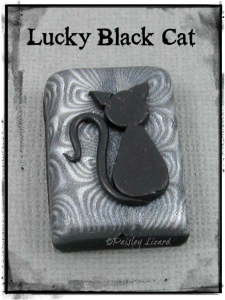 I'm hosting a jewelry design challenge and blog hop in November. The theme is "Superstition" and the reveal date is Friday, November 13th. Read on to learn more about the theme, how you can join in, and how to win a limited-edition Lucky Black Cat bead.
The second Friday in November is the third Friday the 13th of 2015. It's not often we have three Friday the 13ths in the same year. Most years have only one. I decided we need to celebrate this somewhat rare occurrence with a virtual party. A blog hop party, that is.
Very Superstitious
Some people fear the number 13, believing it brings bad luck. That's called triskaidekaphobia. Meanwhile, other people believe 13 is a lucky number. There's no special term for that, as far as I know. When the thirteenth day of a month falls on a Friday, some consider that even worse luck. That's called friggatriskaidekaphobia.  That's just a fun word to say.
Whether you believe the number 13 is lucky or unlucky, that's a superstition. Superstition is the belief in supernatural causality, that one event causes another without a natural process linking the two events. Or, to quote Stevie Wonder, it's "when you believe in things that you don't understand."
Many common superstitions involve beliefs or practices surrounding luck. For example, having a cricket in your home or finding a penny face up will bring you good luck. But walking under a ladder or opening an umbrella in the house will bring bad luck. Break a mirror? That's seven years of back luck for you. If you believe in that sort of thing.
In the United States and several European countries, black cats are commonly considered signs of bad luck. Yet in Japan and Britain, they are considered symbols of good luck. I happen to think cats are just plain awesome to have around, in any color.
Win a Lucky Black Cat Bead
Black cats make a fun focal for a jewelry design. Which is why I made a limited edition batch of Lucky Black Cat beads and cabochons to give away for this hop. If you'd like a chance to win one to use as part of your design for my Superstition Blog Hop, leave a comment on this blog post and complete the blog hop sign-up form below.
You can specify in your comment (and on the sign-up form) whether you would prefer a bead (center drilled lengthwise), a cabochon (no hole), or a pendant (hole at top). I can't promise you will get your preference; that depends on how many people sign up.
The first 13 people to comment on this post asking for a Lucky Black Cat bead/cab, will win one. Provided they have active blogs and signed-up to join the hop.  If they don't/didn't, the prize will go to the next eligible commenter.
These Lucky Black Cat beads were handmade by me, from polymer clay, in my original design. Each one is unique. I am giving them away for free, and covering shipping expenses as well. All I ask in return is that the winners commit to using them in a jewelry design, to be completed and shared in a blog post on the reveal date.
Superstitious Blog Hop Details
Theme: Superstition.  Choose any superstitions you like, from any culture.  Mix and match if the spirit moves you. If you need inspiration, check out this list of some common superstitions.
What: Make jewelry using any symbols, charms, or totems of your choosing in as many jewelry designs as you'd like.  Use any media, any style, any technique.  If you are the winner of one of the Lucky Black Cat beads, please use it in one of your designs. Then, write a blog post with photos of your jewelry designs and tell us about them and which superstitions inspired them.
When: Reveal your jewelry designs and join the blog hop on Friday, November 13, 2015.
Where: The hop starts here, on my blog. From there, you visit the other participants' blogs in any order you choose. You don't have to visit all the blogs in one day. But it is considered polite to stop by and comment on each one as soon as you are able. If you aren't familiar with blog hops, you might check out my post on what to expect from a blog hop for a little background and basic etiquette.
How: Complete the sign-up form to have your blog address included in the Superstition Blog Hop participant list. The form is open from 12 am EDT on August 13, 2015 to midnight EDT on August 20, 2015.  If you're having trouble with the form, you can email me at PaisleyLizardDesigns@gmail.com.  (Edit – I'm told the form may not work on mobile devices. Sorry about that. If you can't get to a computer, send me your blog address, email, etc. via email.)
The Superstition Blog Hop Badge
Here is the "official" badge for the Superstition Blog Hop. You can add it to your blog's sidebar to let your readers know about the hop. If you can link it to this blog post, to help spread the word, that would be wonderful.  The url to link to is http://www.paisleylizard.com/2015/08/superstition-blog-hop-sign-ups/
And now …the Small Print
The winners of the Lucky Black Cat beads will be announced here on my blog on August 22nd, along with the list of participants and their blog addresses.  I will also contact the winners via the emails provided in the sign-up form. Beads will be mailed, via USPS First Class, by September 1st to allow you plenty of time to work on your design.
To be on the Superstition Blog Hop participant list, you must have an active blog. What's "active" you ask? It means you post frequently or regularly. If you haven't posted in the last month, your blog is bordering on "couch potato." If it's been more than a few months since your last post, your blog is practically comatose.
Fair warning: I will check on your blog to confirm that it is active. If the link you provided in the sign-up form does not work, your blog address will not be on the published participant list. If your blog has cobwebs from many months of neglect, you will not be eligible to win one of the Lucky Black Cat beads.
I will mail the Lucky Black Cat beads to the addresses winners provided in their sign-up forms. If the address you provided on the form is incorrect and the package is returned to me, I will not re-mail it unless you opt to reimburse me for the additional postage via PayPal.
Remember!
If you want a chance to win a Lucky Black Cat bead/cab/pendant, please (1) leave a comment on this blog post, and (2) complete the sign-up form.
Also, do not panic if your comment doesn't show up right away.  I use comment moderation to control the spam. I have to manually approve some comments. But they are all date stamped and, once approved, will appear in the order they were submitted.
Good luck!