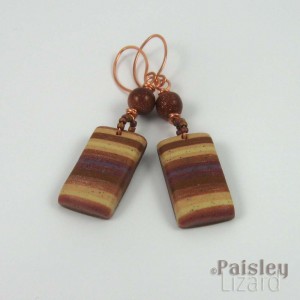 The inspiration images for this month's We're All Ears design challenge are from my home state, Arizona. Specifically, they are photographs of Antelope Canyon – a famously picturesque slot canyon in the northern part of the state.
This is the second time I've participated in a jewelry design challenge where images of Antelope Canyon were the inspiration. Last year I designed a necklace and bracelet for a Self-Representing Artists in Jewelry Design monthly challenge. I think the universe is telling me I need to make a trip to see this place in person.
The Inspiration
If you search the internet for images of Antelope Canyon, it will be immediately obvious why it's so inspirational for art jewelry. The colors and shapes are out-of-this-world beautiful.
When brightly lit by sun, the rock formations show bands of red-orange and creamy yellow. In the shadows, there are mauves and purple-reds mixed in.  It looks like one of those places where you can't take a bad photograph no matter what kind of camera you use or how skilled you are.
The canyon is on Navajo land, and tours are arranged through the Navajo Nation. Their website has more spectacular images and information about this magical place.
The Jewelry Design
When I designed jewelry for the SRAJD challenge last year, I used natural gemstones. For this challenge, I decided to use polymer clay to create the focal components. And Lynda Moseley's "controlled marbling" tutorial was the perfect technique.
I blended some small batches of colored polymer clay in shades inspired by photos of Antelope Canyon. I especially like the range of warm and cool tones seen in images that are partially shaded. The base color, mixed into every shade in varying proportions, was a warm copper. It gives a slight shimmer to the components, which you can't really see in my photos.
I lightly sanded and buffed the polymer clay components. I didn't want them too shiny. I wanted them to have a sort of weathered stone finish. I accented them with brown goldstone beads, which happens to perfectly match one of the shades in the focals. I used natural copper wire to connect the focals to the beads, and accented the loops with some coppery seed beads.
I had grand plans to make a necklace and bracelet to coordinate with the earrings. I made a pendant and bracelet bar in the same pattern as the earring focals. After pulling out boxes of beads in possible colors and shapes, I decided what I really wanted to string these focals with was rustic polymer clay beads in the same shades as the stripes.  There wasn't time to whip those up before this reveal, so the set is a work in progress. I hope I can remember the recipes for those colors.
Many thanks to our hostess, Erin Prais-Hintz for yet another wonderful earring design inspiration.  Be sure to stop by the Earrings Everyday blog to see Erin's designs, and then follow the links at the bottom of her post to see more earring designs inspired by this theme.