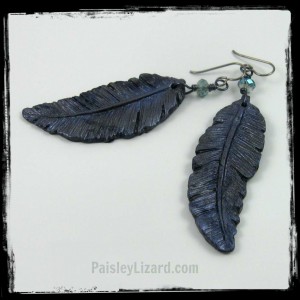 The fall art/component theme on Art Jewelry Elements is ravens, in mythology and in nature.
As the subject of many myths and legends, ravens are also a popular subject in the art of many cultures. They make great focal elements for jewelry designs as well.  I took this challenge as an opportunity to create a small collection of raven-themed jewelry featuring artisan components from several of my favorite artists. I threw in a few components of my own making as well.

Ravens are distributed across much of the northern hemisphere. This, and their characteristic behavior, is possibly why they feature in the myths of such a wide range of cultures. In mythology, ravens are generally either the familiars of gods and goddesses, or are deities themselves, depending on the culture from which the myth originated. In nature, they have a reputation for being intelligent, playful, social, and sometimes mischievous.
Raven Steals the Sun
In some myths, Raven is responsible for creating the world, or at least for bringing light to the sky by stealing the sun, moon, and stars. Raven's feathers were initially white according to some of those legends. They either turned black from heat or smoke when he stole the sun, or they were turned black by another god as punishment for the theft of those shiny objects.  In nature, ravens have been known to collect shiny objects, which may have contributed to their association with stealing the things that sparkle and shine in the sky.
This necklace features a white raven ceramic pendant from BeadFreaky. The beaded copper chain includes artisan beads mixed with Czech glass.  The two creamy white etched spiral beads are lampwork by Genea Crivello. The ceramic moon face connector, by Lesley Watt, came with a march hare focal. I don't think the little bunny will mind that I used it here. There's also a copper sun bead and copper chain.
The raven's head focal on this next necklace is a ceramic pendant by Jenny Davies-Reazor. The ceramic moon connector and star charm dangles are by Lesley Watt. Once again, I stole these from some march hare focals.  And I'm still pretty sure the bunnies are okay with it. The neckline is beaded chain using Czech glass with Swarovski Elements crystal pearls on antiqued brass wire and chain.
Raven Foretells the Future
In some cultures, ravens are harbingers or messengers, or are associated with gods or goddesses of prophecy, thought, wisdom, or intuition. The association of ravens in mythology with matters of intellect and messages may be related to observations of their behavior, including their problem-solving skills and ability to mimic human speech and other sounds.
The focal on this necklace is a black ceramic pendant by BeadFreaky. It's almost the photo-negative of the pendant in the first necklace. The neckline is beaded chain using antique-cut Czech glass beads with a metallic bronze finish wire-wrapped on antiqued brass wire.  The glass beads almost look like pyrite, which is also known as "fool's gold."  The back of the necklace is finished with Vintaj natural brass chain with a "wisdom" word charm on the end of the extender.
Raven and the Goddess
In some Celtic myths, ravens are associated with goddesses of battle, war, and death. They are either familiars to the deities, or they are an alternate form in which the goddess appears.  The tendency of ravens to feed on carrion, and thus to be present on the field after a battle, may have contributed to their association with war and death.
The focal on this necklace is a ceramic pendant by Jenny Davies-Reazor. The triple moon symbol above the raven, which is a common symbol for the Goddess, inspired me to create a celtic-ish thing-a-ma-do from which to hang the pendant. I wanted to make a wire-work celtic knot, but that didn't work out. (I'll spare you gory photos of the mangled wire monstrosity.)   So I turned to polymer clay with the intent of creating something that resembled antiqued silver.
This piece is very much a prototype and I will absolutely be taking another run at that polymer clay whatchmacallit.  I think it needs to be thinner, with perhaps more texture around the edges, for starters.  I also ran out of sterling wire for making the beaded chain neckline. You can't put a nice dark patina on silver-plated wire that's been treated with an anti-tarnish finish. And this piece needs some antiquing. The lovely blue sodalite beads will get re-wrapped as soon as I re-stock and patina some sterling wire.  And then I hope to be able to do justice to Jenny's lovely focal.
The focal on my final necklace design is a feather I carved from polymer clay. It has a blue-black iridescent effect, much like real raven feathers gleaming in the sun. Unfortunately, I can't adequately capture that in my photos. Trust me, it's there and it's all kinds of shimmery and shiny. The beaded chain of the neckline pairs deep blue dumortierite nuggets with fire-polished crystals on gleaming gunmetal finish wire and chain.
The necklace has coordinating earrings with polymer clay feathers in the same iridescent blue-black finish.  I used a silicone mold to create these smaller feathers, and the earrings are asymmetrical as the feathers are slightly different shapes.  I think this set looks like something An Morrigan, or another goddess, might wear when not in their raven form.
The Challenge Participants
I hope you enjoyed this unkindness of ravens in jewelry form.  (Yes, that's what you call a group of ravens:  an unkindness.) I had a fabulous time designing for this theme.  Many thanks to the Art Jewelry Elements team for the inspiration.  I'm off to visit the other designers who participated in the challenge. You can come admire their work too.
Art Jewelry Elements Team:
Lesley Watt
Jenny Davies-Reazor
Phantasm Creations
Caroline Dewison
Linda Landig
Niky Sayers
Guest Bloggers:
Linda Newnham
Michelle McEnroe
Sarajo Wentling
The Copper Cat
The Paisley Lizard (you are here)