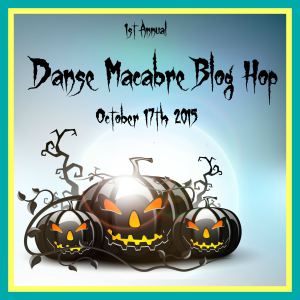 Welcome to my reveal for the Danse Macabre Blog Hop.  Our hostess, Lee Koopman, challenged us to create jewelry, or decorations or other crafts, inspired by a "Halloween type character."
The Danse Macabre has some symbols and imagery in common with Halloween, including skeletons. Those are what I decided to focus on for my creations.
I also borrowed from another fall holiday – the Day of the Dead – for my design inspiration. Skulls and skeletons are featured prominently in decorations for that day, as well as bright colors and flowers.
The Symbolism and Inspiration
Danse Macabre is French for Dance of Death. In art, it is usually represented as Death personified leading people of all walks of life on a dance to the grave. Death and the dancers are sometimes portrayed as skeletons, wearing clothes that depict their varying stations in life.
The underlying meaning in the symbolism of the Danse Macabre is that death comes for us all.  No matter who you are, where you're from, what you do for a living, how much money is in your bank accounts (or your sock drawer), or any other social, economic, or other factors. That could be a depressing thought. Or, it could make you focus less on material things – the ones you have or the ones you don't – and simply appreciate being alive.
The Dia de los Muertos (Spanish, Day of the Dead) celebrations have some symbols in common with the Danse Macabre.  Most notably, there are personifications of death or the dead in the form of calacas, or skeletons.  These whimsical skeletons are often dressed as if they were going about their lives. The basic idea behind Day of the Dead celebrations, which take place between October 31 and November 2, is to celebrate the lives of departed loved ones and welcome their spirits for a visit while the veil between this world and the next is thin.
These celebrations of death as a part of life include building altars with favorite foods and drinks of the departed. The altars are often decorated with photos, mementos and bright orange marigold flowers, which are believed to draw the spirits of the departed near. There are parades, dancing, lively music, graveside picnics, and laughter while telling stories about the departed.
One Day of the Dead icon that has made its way into jewelry is the sugar skull. These skulls made of sugar and elaborately decorated are placed on the altars or graves of the departed. The folk art style in which sugar skulls are decorated – with big smiles, brightly colored flowers and bold symbols – has inspired designs on textiles, fine art, tattoos, and jewelry, among others. They have become decor and decoration that is seen year-round.
The Jewelry Designs
Inspired by the idea of celebrating departed loved ones with laughter rather than tears, and by the brightly colored art of the Day of the Dead in particular, my designs are not spooky or scary. They are bright and festive.
I've been hoarding some ceramic sugar skull focals from Gaea for awhile, waiting for design inspiration. It's always a challenge when working with art beads and components. I want to do them justice, which often results in designer's block.
When I saw the shimmery black sugar skull pendant, I knew I wanted to pair it with bright orange flowers, to represent the marigolds from Day of the Dead altars. It took a while to find the right beads, but when I came across these Picasso-finish Czech glass flowers, the necklace design came together almost instantly. All it needed was my favorite textured rolo chain from B'sue Boutiques.
Deciding what to pair these adorable sugar skull charms (also from Gaea) with took a bit more effort than designing the necklace. I tried some flower-shaped beads in different sizes and colors but nothing seemed quite right. When I discovered some orange and green E-beads in my stash that coordinated with the orange and green glazes on the skull, I finally had an idea. It was originally going to be chain maille with bead accents. In the end, it was more of a free form connection of beaded jump rings. Because I don't actually know much about chain maille and stink at following patterns.
Up next, I pulled a few strands of carved reconstituted stone skull beads in assorted colors and sizes. The smallest ones told me they wanted to be chandelier earrings. After I attached a rainbow of tiny skulls to the connectors I decided the earrings weren't long enough. I loooove long dangle earrings. A pair of TierraCast rose skull beads were just what I needed to top off the connectors and add length to the earrings.
The largest of the brightly colored skull beads became dangles on a charm bracelet. They are mixed with TierraCast calacas charms. I used silver-plated book chain as the foundation for the bracelet. This style of chain, also called cuff and oval chain, is great for charm bracelets. (And I got it from B'sue Boutiques.) It doesn't twist and make the charms fall the wrong way. And the pattern on the cuff part is just the right bit of ornate interest to complement the charms.
A green polymer clay Bali-style skull, by Staci Louise Smith, was another great artisan piece that gave me designer's block for a bit. I stared and stared at it, until it whispered "bat" to me. I pulled some brass bat stampings from my stash, but they were not the right size for what I had in mind. However, in the same box – where I keep all my brass stampings from B'sue –  there were some large-ish matte black wings. I had to punch holes in the wings so I could wire the skull into place. (I don't trust glue.) I kept the neckline simple, with some beaded links using Czech glass flowers and beads with matte black Vintaj chain.
I also made a batch of sugar skull pendants. I haven't come up with designs to incorporate them into necklaces yet. Hopefully my muse will be on the job soon. The pendants are polymer clay colored with alcohol inks, metallic Pan Pastels, acrylic paints, and colored pencils. I haven't used my alcohol inks enough to have a feel for what color they appear in the bottle versus brushed on polymer clay. For example, the one that looks bright pink all over is actually part pink and part purple. And the one that looks lime green is part yellow and part green. Clearly, more play time is in order.
That's it for my designs today.  They are all available in my Etsy shop, except the skull pendants, which are works in progress.  Thank you so much for stopping by. I hope you'll leave a comment with your thoughts on my designs, or maybe click a social share button at the bottom of this post to let your friends know you were here and liked what you saw.
Now as I send you off to visit the rest of the blogs in this hop, I leave you with this little earworm from the Blue Öyster Cult:
All our times have come
Here but now they're gone
Seasons don't fear the reaper
Nor do the wind, the sun or the rain… we can be like they are
Come on baby… don't fear the reaper
Baby take my hand… don't fear the reaper
We'll be able to fly… don't fear the reaper
The Blog Hop Participants
P.S. If your comment doesn't appear right away, don't worry. It's just being held for moderation and will show up as soon as I get a chance to approve it.