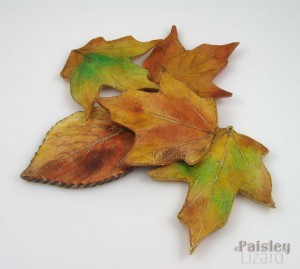 I spent part of a rainy weekend making fall leaf pendants from polymer clay and a "secret" ingredient.
Fall is one of my favorite times of year for many reasons, not the least of which is it means the end of my least favorite season – summer.
It's also a great time of year for color inspiration if you're as big a fan of earth tones as I am. What's not to love about the blends of green, amber, orange, and red in tree leaves in the fall?
I was afraid we wouldn't get much in the way of fall foliage this year due to the extraordinarily hot dry summer. Many tree leaves were turning brown and brittle from lack of water and falling before they had a chance to show their fall colors. I was feeling pretty wilted myself.
But, finally, summer has ended and we are in the transition season. And we got some rain. Well, some is an understatement. We got lots of rain in a short period of time thanks to a nor'easter hooking up with a tropical storm named Joaquin.
The "secret" ingredient
The rain came with some wind, which helped quite a few turning leaves find their way to the ground.  I picked up a few, and an acorn, while enjoying a walk in the refreshingly cool rain.  (I put the acorn back after the photo session. In case a squirrel was looking for it.)
So my "secret" ingredient for making the leaf pendants is …fallen leaves.  After rinsing the leaves, I pressed them into some conditioned polymer clay. I've done this a few times before. I think lots of people have done polymer clay leaf impressions at one time or another. It's fun and easy. Here are some of my previous creations.
The first few times I made polymer clay leaves, I used mica powders to color them. The leaf in the top right corner of the above photo is one example.  If you'd like to give that a try, The Blue Bottle Tree has a nifty free Mica Leaf Tutorial with great step-by-step photos.
Once I added alcohol inks to my polymer clay supplies it was inevitable I would try coloring some fall leaves with them. The leaf in the bottom left corner in the photo above is an example.
Using Pan Pastels for beautifully blended fall colors
This year, I started using chalk pastels to color polymer clay. And I splurged on a set of Pan Pastels, which are super soft, richly-pigmented artist pastels. They are like cream eye shadow in consistency and coverage.
I started with a base of off-white clay, into which the leaves were pressed. After I cut out the outline of each leaf, I used the pastels like finger paints to get the colors. The pastels come with sponge applicators but I found using my finger worked better for this effect. You can add and blend and smudge away.
After baking, I antiqued the leaves with acrylic paint and sealed them with semi-gloss polyurethane.  Two of the maple leaves got a crackle treatment after baking. It isn't very obvious in the photos unless you zoom in. But it's a great detail in person, adding to the organic look of the leaf. I adapted the technique from a tutorial by Staci Louse Smith.
The backs of the pendants are also colored with pastels. For the backs, which are stamped with a paisley pattern and my business name, I used metallic Pan Pastels.
I plan to use these pendants in some necklaces. Just as soon as some design inspiration strikes. Which may require a trip to the bead store, because I think I want to pair them with some gemstone nuggets and pebbles. And I've used up most in my stash.
Branching out
I'll probably make a few more pendants, or brooches, or even ornaments, while the leaves are still falling. I seem to have a tendency to focus on maple, but I will try to branch out. No pun intended. I picked up these ginkgo leaves on my lunch break today. They haven't turned yet, but there were quite a few on the ground thanks to the recent storms.
For the most realistic imitation of actual leaf colors, the Pan Pastels are my pick from the techniques I've tried. But the mica powders and alcohol inks are fun effects as well. I think I'll do some more alcohol ink leaves, in addition to the pastels. And maybe even give some leaves a Swellegant metal coating treatment. Some patinated copper and rusted iron leaves could be quite fun. I hope you'll stay tuned to see what turns out.
Oh, and if you happen to know to what kind of tree those two mystery leaves in the bottom right corner of my collected inspiration photo belong, please leaf a comment.