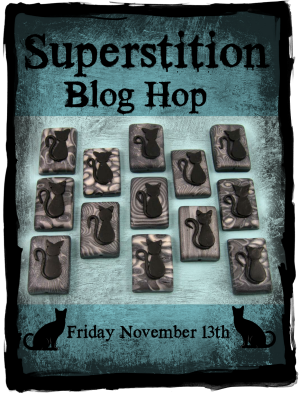 Welcome to reveal day for the Superstition Blog Hop and jewelry design challenge. The participants, all jewelry designers, have created jewelry based on various superstitions of their choosing. Some of them are using Lucky Black Cat beads, made by yours truly, in their design.
This is my first time hostessing a jewelry design blog hop. I've participated in quite a few and felt it was my turn to come up with an inspiration/theme and invite some friends. You can read more about why I chose "superstition" as the theme in the post where I announced sign-ups for the hop.
What is superstition?
A superstition is essentially a belief in a supernatural cause and effect relationship. And what is a "supernatural" cause?  It's anything beyond scientific understanding or the laws of nature.
For example, some believe wearing certain gemstones promotes healing, communication, etc. despite a lack of scientific evidence showing a link. That's a superstition. But simply because a link has not been found, does not mean one isn't there. Maybe we just don't yet have the technology or the knowledge of the workings of the universe to see it.
I believe science has all the answers, but we don't yet have all the science. Or, as they say, absence of evidence is not evidence of absence.  I also hope science never gives us all the answers. After all, what's life without a little mystery?
Are black cats unlucky?
When I was hatching the idea for this hop, I knew I wanted to include something about black cats.  I even designed some polymer clay focals specially for this event.
Why black cats?  In some countries (including here in the U.S.), they have been recipients of cruel treatment thanks to superstitious beliefs that link them to evil and the devil (a supernatural being, btw). During the Black Death pandemic in the Middle Ages, black cats were systematically exterminated.  Because the illness and death was believed caused by "evil" forces, and black cats were known agents of said evil.  So, it certainly is true that being black is unlucky …for the cat.
Meanwhile, in the UK, Australia, and Japan, black cats are considered good luck. The ancient Egyptians revered cats in general, and didn't exclude those with black fur from being idolized. I wanted to design something that's consistent with these more civilized, enlightened beliefs, which is why I chose to make Lucky Black Cat beads.
In feng shui, black is the color of wealth, strength and unpredictability. In those cultures where black cats are considered lucky, black is not the color of evil. It is the color of protection and wards against negative forces. Having a figurine of a black cat facing north is believed to ward off evil. Or, you could simply adopt a black cat and put a soft cushion in a north-facing window.
Superstitions don't spring up out of nothing. They are usually linked to something people observed but could not explain without resorting to a supernatural belief. Cats can do some pretty amazing, and bizarre, things. Ethology can explain the reasons for most of them. But back in the day before there were scientists making a living spying on the secret lives of cats, people used superstitions to explain what they saw.
For example, when people saw black cats hanging out while people were getting sick and dying from the Black Death, they blamed the "evil" cats. We now know that rodents are carriers of the bubonic plague. So, in hindsight, it makes sense there were cats about: cats hunt rats. Surely there were cats of other colors out and about hunting rats at the same time. But since people already believed black cats were agents of evil, why not blame them?
Are green eyes evil?
There is a superstition that the eyes are windows into a person's soul, meaning you can see a person's true nature by looking into their eyes. The superstitious part of that is the belief in a soul. The soul is not something science has been able to measure or detect. That doesn't mean there isn't some unquantifiable essence in each of us.
Whether you believe in the soul, or what you think one is, there's no question you can tell a lot about a person from their eyes. The expression lines around them, and whether they meet yours when speaking, for example, are ways the eyes can reveal a person's character.
The color of our eyes is also a source of superstitions. In some cultures, people with blue or green eyes are believed capable of matiasma, or the evil eye. This superstition may have arisen because of the rarity of these eye colors in some countries. After all, what's different must be evil, right?
The superstitious belief that green-eyed people, especially women, were witches may have arisen because of observations of how rare that color is in humans while being very common in cats. These green-eyed humans were obviously shape-shifters who turned into cats, yet were somehow unable to disguise their feline-colored eyes. Yep. A 100+ pound woman with red hair and freckles could turn into a 10-lb cat with solid black fur, but when she turned back, she couldn't disguise her green eyes. Makes perfect sense.
Can jewelry protect you?
So, how was a brown-eyed person to protect themselves from these evil green-eyed demons who could curse them just by glancing their way?  Why, with jewelry, of course. The wearing of jewelry has some origins in superstition.
People began wearing silver earrings in the belief they prevented evil spirits from entering the body. To deflect the evil-eye, you could wear an eye-shaped amulet. Or you could wear turquoise jewelry to protect you from evil. Planning to spend a bit of time at sea? You might want to find some aquamarine jewelry to keep you safe.
If you search for the meanings of gemstones, both precious and semi-precious, you will find that many of them are associated with one or more supernatural powers. Whether you choose your jewelry for what it can do for you metaphysically speaking, or just because you like the way it sparkles, I'm sure you'll find lots to love in the designs of the hop participants.  You can also view their work on this Pinterest board. I'll be adding photos to it as I visit each of the bloggers listed here.
The Hop Participants