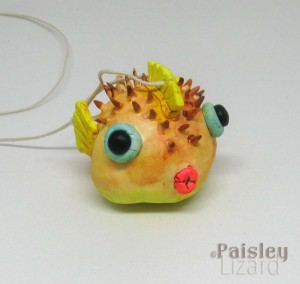 When my acupuncturist asked if I could make some fish ornaments to decorate her treatment rooms, I said I'd give it a try. She wasn't specific about how the fish should look, other than that they be colorful. And I had an approximate size reference.
With that much creative freedom, I headed into the studio with no idea where to start. That's not a bad thing. I tend to get the artistic equivalent of writer's block when someone custom-orders something overly specific. My muse needs a little inspiration, and a lot of space to play. In this case, I had all the play space I needed. And no deadline. Perfect working conditions.
Except for the part where I don't know how to sculpt.  Despite having an impressive collection of tools for sculpting clay, I don't actually know much about sculpting. I've watched some fast-motion videos of people sculpting amazing things in polymer clay. From those, I got a few tips on how to use some of my tools.  Mostly in a "so that's how they make that texture" kind of epiphany.
Naturally, I was going to use polymer clay to make the fish.  It's a relatively forgiving medium to use when you're learning to sculpt. If you don't like how something is going, you can just ball it up and start over. It doesn't dry out as you're working and nothing is final until you cure it in the oven. You can also cure a piece in stages, adding bits and pieces as often as needed. There's no shrinkage with curing, so you know exactly how large your final piece will be as you're making it.
Because the fish were going to be used as hanging decorations, I wanted them to be light weight. Polymer clay is not terribly heavy, but a solid polymer clay fish in the sizes I was contemplating would have weighed more than I wanted. So I decided to form the fish over aluminum foil armatures.
Armatures. That's something I've not done before. I didn't find any detailed information on exactly how to do it the "right" way. So I just crumpled up some foil into the approximate size of a fish body and started covering with clay. What I learned along the way is it seems to work better if you add small bits of clay until you've covered the foil, rather than trying to wrap a sheet around the foil all in one go.
I also learned that even if you think you've compressed the foil well and smoothed the clay into all the nooks and crannies of the armature, there can be air bubbles trapped in there.  Those air bubbles will cause the clay to expand and crack as it cures. I ended up with a couple of deformed fish as a result.  It's frustrating to lose a piece that you've spent time on. But at least the replacement materials weren't too costly.
I sculpted the fish in off-white because I hadn't yet decided what colors they were going to be. I wasn't trying to make realistic fish either. So the shapes of the bodies, and especially the fins, were pure imagination. I had a little trouble getting the fins to stay attached in some places. A friend suggested cutting channels in the clay on the body and adding the fins into the openings. That didn't work because the clay over my armature was too thin. I improvised by adding thin strips of clay around the fins. They became, eh-hem, design elements.
I used alcohol inks to color the fish. The inks come in a wide variety of colors and can give a nice water color effect. I antiqued the fish with acrylic paint before adding the inks, to bring out the texture and details.
After the customer approved of the size and style of the two sample fish, I went back into the studio to make a bunch more for her to choose from.  I wasn't working from any photos or sketches, just letting my imagination go where it would. The puffer fish was the most fun, but I love them all.  They're primitive and whimsical.
All of these little fishies are now hanging from the ceiling at my acupuncturist's office. It's fun to see them each time I visit.  I think I'll be making more fish next year, to sell as ornaments in my online shop. They seemed popular when I shared pictures on my Facebook page. I should probably make some notes about what I did, before I forget. So I don't have to do the trial-and-error parts all over again.  And maybe I'll try a different armature: perhaps Sculpey Ultralight.
I still don't know the "right" way to use most of my sculpting tools, or the best way to go about sculpting in general.  But sculpting isn't as intimidating as I thought before making these fish. Yes, they're primitive.  Someone with more skill could shape the polymer clay into very realistic fish. Or very elaborate fantasy fish.  Maybe I'll get there some day. Or, maybe primitive is my style.  I'll keep playing until I figure it out.