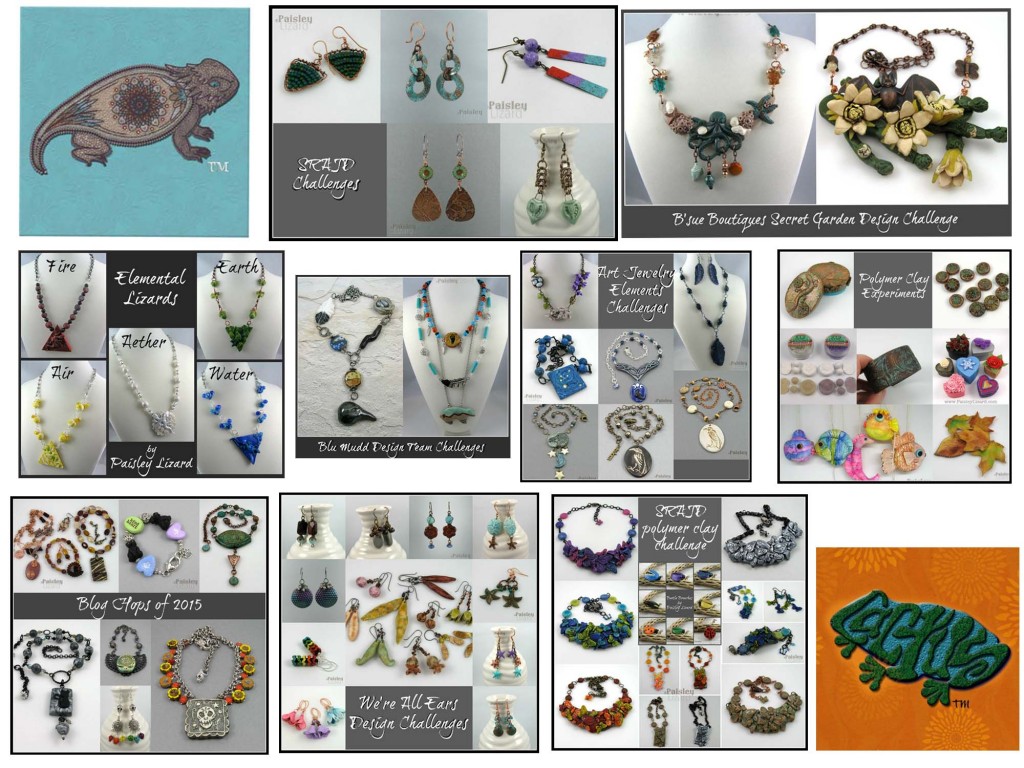 As I prepare to flip the cover on a new calendar, I wanted to look back at what I've done this year.  Luckily, I have my blog posts to remind me of the design challenges, blog hops, and creative adventures that took place in 2015.
This is my second full year of blogging, and while I wasn't as diligent about posting weekly as I was in my first year, I did manage to have something to share at least once each month. This past year included more polymer clay experiments, as well as trying, and sometimes failing, at new jewelry-making techniques. It's all part of my creative journey.
Design Challenges
Design challenges are a great way to stretch your imagination by creating jewelry for a theme. Sometimes the theme is a technique or a specific artisan component, other times it's an inspiration image or concept. I participated in some recurring (monthly) jewelry design challenges. I also took a "master class" that is changing the way I approach jewelry design.
The themes for this year's Self Representing Artists in Jewelry Design monthly challenges were focused on different jewelry-making techniques. Some were techniques I use and am comfortable with, while others were new for me.  I've been using wire-work in my jewelry designs almost since the beginning, but wire-weaving is a technique I'll need to keep practicing. As a fan of all things rustic, the patina challenge was right up my alley.  I cheated, just a little, for the resin and enamel challenge by using a faux resin, because I don't have a torch set-up. Of course I went a little lot overboard with the polymer clay challenge.  The etching challenge was my favorite new technique, because I got such great results with my salt-water etching.  And because it was like being back in chemistry lab.  The chainmaille challenge confirmed my suspicions about how time consuming that technique is.
In 2015, the Art Jewelry Elements team held some open design challenges, with seasonal themes that happened to focus on animals.  There was the March hare for spring, fireflies for summer, and ravens for the fall.  (The winter reveal is in January, so stay tuned for solar-inspired jewelry designs.)
I joined the Blu Mudd design team, a Facebook group for designing jewelry with ceramic components from Moriah Betterly. I was fortunate to work with Moriah's artisan components for the sea gull challenge and the Zuni bear challenge before she closed the group to pursue other artistic endeavors.
You know how much I love to make earrings, so of course I participated in some of the We're All Ears earring design challenges. Some of the monthly themes had me stumped, but I managed designs for Pantone's 2015 color of the year – marsala, the whimsical "flower girls" art by Limzy, macro photography of dragonflies, a dance troupe performing a very colorful tango, tide pool art prints, Antelope Canyon in Arizona, and seed pods.
Another Facebook group that closed in 2015 – Bohemian Vibe – also had monthly challenges. I couldn't resist the "Secret Garden" challenge, with a polymer clay tutorial by Christi Friesen.  My secret gardens ended up being a little more off the beaten path than others. One was under-the-sea and the other only blooms at night.
My biggest design challenge for 2015 was the B'sue Boutiques Build a Line master class.  This was a virtual classroom (via a Facebook group and series of blog hops) where my classmates and I learned to create a cohesive line of jewelry. I had fun designing my limited edition "Elemental Lizards" necklaces, and have been incorporating the lessons from that class into my daily design process.
Blog Hops
Much like design challenges, blog hops are an opportunity to look at jewelry design in a different way.  They have themes, and sometimes they include swapping jewelry components.  They're also an opportunity to interact with other jewelry designers in a sort of virtual party.
For the Art of Awareness blog hop I chose to focus on the plight of homeless cats and dogs, and used some custom-made art beads from a favorite polymer clay artist, Rejetta Sellers. The components I received from my partner in the Bead Peeps Swap 'n' Hop challenged me to use seed beads, which I tend to shy away from because they're just so darned teeny. The Danse Macabre blog hop inspired a small collection of sugar-skull jewelry. And I hosted my very first jewelry design blog hop!  I chose "Superstition" as the theme and created some limited edition Lucky Black Cat beads for participants to use.
Playing with Polymer Clay
Of course I played with polymer clay. It was my go-to medium for more than a few of the design challenges. When I wasn't creating for a challenge, I was experimenting with mix-ins and faux surface effects and sculpting.
I used the methods from the Blue Bottle Tree's rustic beads tutorial to create beads and keepsake boxes with a faux copper patina finish. I made a line of covered heart-shaped keepsake boxes. I investigated what happens when you mix Iced Enamels powders into clay. I used Swellegant metal coatings to rescue a bracelet-gone-wrong. I went a little crazy making fall leaf pendants. And I sculpted some whimsical fish ornaments.
A New Logo and a New Brand
While taking the Build a Line challenge, I took a hard look at the inventory in my on-line shop. And decided to open a spin-off shop so I could separate my rustic art jewelry designs from the more sparkly fashion jewelry I occasionally create. That simple sorting gave my Paisley Lizard shop a more cohesive look almost immediately.
I needed a name, and a logo, for my spin-off shop on Etsy. And thus, the Cactus Frog brand was born. I absolutely adore the frog logo designed by Beth Petricoin of Create My World Designs. I also have a Facebook page for Cactus Frog, which I absolutely need to give more of my attention.
I was so impressed with Beth's work on the Cactus Frog logo that I asked her to give Paisley a make-over. She knocked it out of the park. I'm still stumped on which font(s) to use to go with the new Paisley Lizard logo, which means I still haven't updated my banner here, or ordered new business cards. I'll get there.
Guest Blogging
I wrote a few posts for the Creative Bead Chat blog in 2015. Not as many as I should have; I was stumped for topics.  I got out my "artists don't charge enough for their work" soapbox in January.  Then there was a cautionary tale about selling jewelry before you've honed your skills.  And I shared photos of the art bead collection I amassed as a "happy birthday to me" binge.  I also shared some of my lessons learned from the BALC on the B'sue Boutiques blog.
What's the Plan for 2016?
I don't have a plan in the formal sense. What I have are lots of ideas and aspirations. Some of them are inspired by the new techniques I tried in 2015, which I hope to continue to explore. Others are things I didn't find time for in 2015. And then there are all those monthly design challenges with their to-be-revealed themes.
I bought the newest tutorial and "knowledge base" ebook set from The Blue Bottle Tree. They're all about silk-screening on polymer clay. And filled with possibilities and inspiration, as Ginger's tutorials always are.
I have some new toys too. I bought a torch head, with plans to make some of my own findings, and maybe try enameling. I'll need a few more things, including gas, before I'm ready to fire up the studio. I have a new polymer clay extruder: the Lucy Clay Czextruder HD XXL, which is reputedly the Cadillac of extruders. And I received a pair of wire-twisting pliers and a spiral-making jig. So, you can probably expect to see some twisty spiraly things.
Also, I'll be a judge for the new Build a Line design challenge master class. Which means I'll sort of be auditing the class via discussions in the Facebook group as well as attending the three blog hops scheduled for end of January, end of February, and early April.
I hope you'll join me here for more creative adventures in 2016.