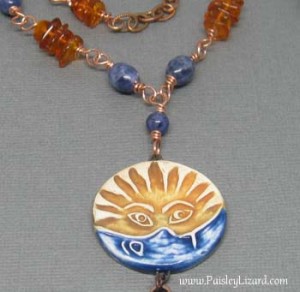 The theme for the winter design challenge on Art Jewelry Elements was the rebirth of the sun, including mythology about the winter solstice.
The Winter Solstice, which marks the longest night and shortest day in the Northern Hemisphere, is something I learned to celebrate while living in Fairbanks, Alaska. There's nothing like having just short of four hours of daylight per day for months to make you appreciate the mid-winter event that marks the gradual lengthening of days.
Somehow, even though the days have been getting longer, I ran short on time for this challenge. January completely snuck up on me and here I am the day before the reveal frantically wrapping beads in wire, taking photos, and writing this post.  Lucky you – that means I'll keep it short and get right to the jewelry.
I made a bracelet!  I rarely make bracelets but the "hello sunshine" bead insisted on a whimsical bracelet.
Up next was a winter white sun necklace. I knew as soon as I saw this pendant that I wanted to pair it with copper.  Who am I kidding? I like copper with almost everything.
The pendant on this final necklace has the sun rising above the moon.  Perfect symbolism for the rebirth of the sun. The pendant reminds me a little of the Arizona state flag.
That's it for me. I'd like to thank the Art Jewelry Elements team for hosting this fun challenge. Please visit the other participating artists to see more sun and solstice-themed jewelry.
Guest Designers
Melissa Trudinger
Lennis Carrier
Linds Newnham
Tammy Adams (That's me!)
Sherri Hartman-Stokey
Kathy Lindemer
AJE Team
Lindsay
Jennifer Cameron
Sue Kennedy
Niky Sayers
Jenny Davies-Reazor
Lesley Watt
Caroline Dewison