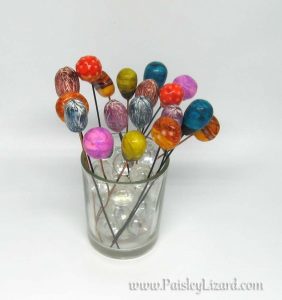 When the team at Art Jewelry Elements announced "art headpins" as the challenge theme for August I was fairly certain I would join in.  But I did wait a few weeks before signing up, because I wanted to be sure I would actually have some headpins to show on reveal day.  The challenge is to create art headpins in any medium, or use art headpins in jewelry designs. 
While I have seen plenty of art headpins I admire, I don't tend to buy them.  I don't know what to do with them. They sort of intimidate me in a way other types of art beads do not.  When I get my hands on an art bead I tend to hoard it until I think I have The Perfect Design to showcase it.  If that design ends up not being the right showcase for the bead, I can always take the jewelry apart and try again. Not so with headpins.
With headpins, little works of art with a long piece of wire on one end, once that wire is bent and twisted and cut, that's it. There are no second chances, no take backsies.  What if my wire wrap goes wonky in a way I can't play off as "rustic" or "intentionally messy"?  If it were a bead, I could just cut the wire and start over. With a headpin, there's only so much you can do to salvage the wire monstrosity you have created.
So I don't buy art headpins.  Except I did buy this one. I couldn't resist. It's a lampwork feather by Genea Crivello.  I know it's a feather because that's how she described it, but I also think it looks like a sea creature.  I'm not sure what I will make with it. It's carefully wrapped and stashed until I know.
I've also made a few art headpins recently, for a couple of other challenges.  The first were this batch of seed pod-inspired headpins, which turned into rustic earrings.  Something about certain seed pod shapes demanded headpins.  You know, because they dangle off vines and stems.
And earlier this summer I made these polymer clay strawberry headpins for another challenge.  I turned them into a simple pair of earrings, just the headpins on earwires. Mostly because I was too indecisive about what to add to them.
If you follow my blog, you already know polymer clay is my go-to medium when I need to make my own beads.  It isn't that I wouldn't love to play with mud to make ceramic beads, or play with fire to make lampwork beads.  Rather, I use polymer clay because it doesn't require special equipment – like a kiln or big scary canisters of gas to fuel a torch.
Even if I could make ceramic and glass beads, I think I would still work with polymer clay. It's incredibly versatile, especially in its ability to mimic other things, like glass and ceramic. I've been tending toward faux ceramic finishes for my polymer clay lately.  For this challenge, I decided to do glass.  Specifically, lampwork glass.
To make my faux glass headpins, I started with white clay on copper or dark annealed steel wire. That was the relatively easy part.  I say "relatively" because the challenge of getting the wires into the beads without distorting them paled in comparison to some of the later steps.
The next steps in the process were to add color, texture, and then a glass-like finish. I used an assortment of alcohol inks,  Iced Enamel® powders, and liquid polymer clay to create the colors and textures on these headpins.  It was a rather time consuming process.  I imagine making actual lampwork beads takes a bit of time to create as well.  As fun as these were as an experiment in technique, I think I prefer something a bit less labor-intensive as a matter of course.
I couldn't resist making a few more pod pins while I was playing with the white clay. These don't have a faux glass finish.  I colored them with chalk pastels and gave them a semi-gloss finish.  They are far easier (less time consuming and less fiddly) than the faux glass.
I fully intended to turn all of my headpins into jewelry for this challenge. But I didn't have any designs in mind. I stared at them and, in my fear or "ruining" them by making "the wrong" thing, I ended up making no jewelry. I really need to have a talk with myself about this headpin phobia.
That's it for my art headpins. But that's not the end of the eye candy. This design challenge is also a blog hop. Be sure to visit the other artists on the list to see more beady goodness.  And many thanks to the folks at Art Jewelry Elements for the open invitation to play along.
Guests
Alison Herrington
Renetha Stanziano
Karin Grosset Grange
Gloria Allen
Deb Fortin
Cate van Alphen
Mona Arnott
Shai Williams
Sarajo Wentling
Kathy Lindemer
Solange Collin
Brooke Bock
Melissa Meman
Patricia Handschuh
Tammy Adams –>You are here!
Melissa Trudinger
AJE Team Members
Caroline Dewison
Lesley Watt
Cathy Mendola
Jenny Davies-Reazor
Susan Kennedy
Laney Mead
Diana Ptaszynski
Lindsay Starr
Niky Sayers