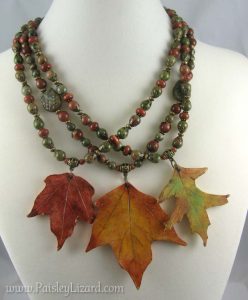 I'm kicking off fall with the Art Jewelry Elements design challenge.  Their theme is "trees" and they shared many inspiration images and ideas on their blog.  I had some grand plans, as usual. And, as often happens, I didn't get around to most of them. 
I did, however, finally come up with designs for some of the leaf focals I made last fall. About this time last year I collected fallen leaves from trees in my neighborhood.  They had amazing fall colors ranging from golden amber with hints of green to rich reds with brown undertones.  We haven't had much rain since May this year so the only colors the leaves are turning right now are brown and browner.
After I made all those leaf focals last year, I found myself stumped for jewelry designs.  I put them aside and moved on to making …what was it? Fish ornaments, I think.   Anyhoo, this challenge was a perfect opportunity to give the leaves another look.  And this time, they spoke to me and I made jewelry until I ran out beads.  (Full disclosure:  I did not completely run out of beads of any kind, just the particular colors I wanted to use.)
I started with earrings. I could make earrings all day.  They are a perfect way for me to wake up my muse.  Especially when I focus on keeping the design simple.  Which is a genuine challenge for me, but easier to do when using focals I made myself.  I have this weird feeling that I must make over the top designs to earn "it," whatever "it" is, when using beads or components readily available to everyone else.   That's probably a therapy session for another day. Back to the jewelry.
Many of the leaf focals I made were quite large, as they were shaped from actual leaves from rather old oak and maple trees.  Some might end up as ornaments rather than pendants.  I chose a few of the medium-sized leaves for some necklaces.  In a departure from my recent trend to make beaded chain necklaces, I decided to string these with unakite and brown goldstone beads and antiqued brass accents.
Here's a group photo of the maple and oak leaf jewelry.  You can get a better idea of the relative sizes of the pendants on the necklaces compared to the earring focals.  I have a handfull of focals that are even larger than the center leaf.  What was I thinking?  Who would wear a leaf pendant the size of their palm?  If I had been thinking ahead, I would have made some of them as brooches.  Too late now, they all have holes drilled in them.  So, as I said, ornaments probably.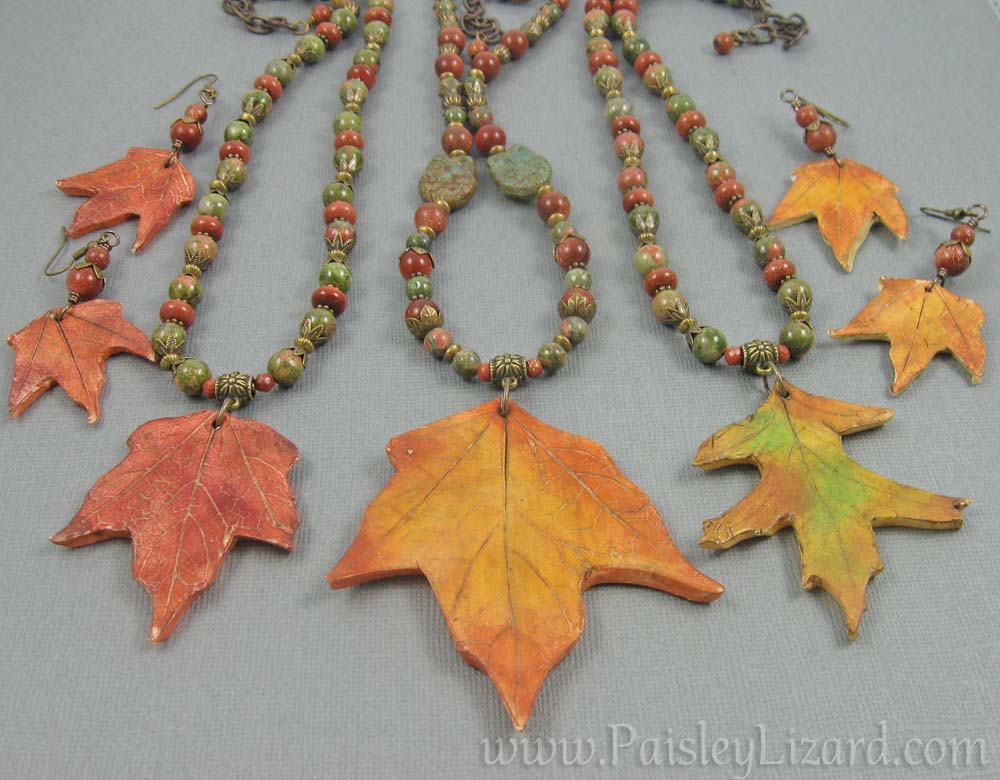 Once I ran out of unakite beads to pair with my fall leaves, I rummaged through my stash for more fall color beads and just wasn't happy with what I found.  Probably because I was looking for an excuse to go buy more unakite, and whatever other beads might call to me once I was in the local bead store.  I resisted the urge to shop and switched to a less fall, but still tree-inspired color palette.
That's the end of my tree-inspired jewelry for today.  Many thanks to the team at Art Jewelry Elements for the inspiration and the opportunity to join in the challenge.  This challenge is also a blog hop so be sure to visit the other artists and designers to see many more amazing tree-themed creations.
AJE Team
Jennifer Stout Cameron
Lesley Watt
Jenny Davies-Reazor
Laney Mead
Niky Sayers
Cooky Schock
Cathy Spivey Mendola
Caroline Dewison
Guests
Brooke Bock
Karin Grosset Grange
Merja Sundström
Cindy Martin Shaw
Allison L Norfleet Bruenger
Melissa Trudinger
Kathy Lindemer
Gloria Allen
Shai Williams
Tammy Adams <– You are here!
Mona Arnott
Terri Del Signore