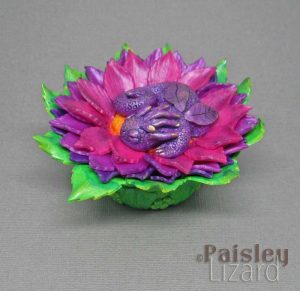 Here there be Dragons! The theme for the winter design challenge from the Art Elements team is dragons. I love dragons. Love! So naturally I signed up to participate. I usually make jewelry for these design challenges. But, since Art Jewelry Elements became Art Elements, I did not have to limit myself to jewelry or jewelry components. However, I stayed in the general vicinity of jewelry, by making jewelry boxes.
I've been enchanted by dragons since childhood.  I got lost in the world of the Dragonriders of Pern novels, by Anne McCaffrey.  Long before there was Daenerys and Khal Drogo (from Game of Thrones, for you non-fans), there was Lessa and Ramoth.  I have a small collection of Pocket Dragon figurines by Real Musgrave.  They're adorable and whimsical. I also have a few less cuddly looking dragon sculptures, from unknown artists (who did not sign their work).  And some dragon jewelry, made by other artists.  All of my dragon collectables are of the winged variety.
If you've followed my blog, you know I've dabbled in sculpting with polymer clay a tiny bit.  I used to be afraid of sculpting, convinced I could not do it.  The reality is, anyone can sculpt.  Perhaps not well, especially not at first.  But, as they say, nothing ventured, nothing gained.
My sculpting technique is naive. As in, untrained.  And this challenge was the first time I attempted to sculpt something with legs.  Legs are scary and intimidating. Or rather, they were until my epiphany last weekend.  Why were they scary?  They have bendy bits called joints that are supposed to bend in the correct direction to appear realistic.  I knew the front and back legs were supposed to bend differently but despite the various tutorials I read or watched, as well as having knees and elbows myself, I just couldn't get it.
And then, as I was intently staring at one of my Pocket Dragon figurines (which I didn't think to look at until after I made all my dragons for this)  I had a palm-to-forehead moment.  Elbows point toward the back like a 'greater than' symbol (>) and knees point toward the front like a 'less than' symbol (<).  Or, put another way, their angles point toward each other ( > < ).  Why, oh why, did I never see that before?  Who knows.  But now I can't not see it.
The great tragedy of this epiphany of mine is that it came after I finished sculpting my dragons for this challenge.  I did, completely by accident, get it right on the first dragon (the golden black one).  And then, even though I had that dragon in front of me as a model for the second and third, proceeded to get it wrong. Wrong as in I have the knees bending the wrong way.  Oh well. You can't really tell on the white dragon because of the wings.  And the purple dragon, which I made last, has other, more serious flaws that mean she will forever be part of my personal collection.
My dragons for this challenge are sculpted from polymer clay in custom color blends that are even more shimmery in person.  I began with brown craft paper boxes as the base, and covered the outsides with polymer clay "habitats" designed for each dragon. I used mica powders, chalk pastels, acrylic paints, and gold-leafing pen to add highlights and accents.
The habitats for the black and white dragons are intended to resemble rocky cliffs.  The dragons do not stand out dramatically from their backgrounds by design.  The dragons need a little bit of camouflage in their surroundings for protection.  There's possibly an easier or faster way to create the look of rock walls than the approach I used.  Shaping and positioning each "rock" one at a time was not it.  But, I am happy with the end effect overall, so it was worth it.  I'm also pleased with the vine details that are continuous from the base to the lid.
I had this brilliant idea for the last dragon, which is about one-third the size of the other two.  She was going to be napping inside a flower.  My idea for how to construct the flower around the box, leaving room for the dragon, was ill-conceived. Due to my lack of experience and training in sculpting.  It didn't turn out as planned and I think some of the leaves may be easily broken off.  So, she's staying with me.  And now I know some things not do next time.
Will I be making more dragons?  Well, now that I know how the leg joints work, and since my flower dragon didn't go as planned, perhaps I'll make at least one more.  Or several more.  Or many more.  I do have a tendency to get distracted though.  By shiny objects. Other design challenges. Specks of dust in the sunbeams. No, wait. That last one is my cats.
I hope you've enjoyed my dragons.  I certainly had a wonderful time creating them for this challenge.  Many thanks to the Art Elements design team for the inspiration and the opportunity to participate. Please be sure to visit their blogs and those of the other participating artists for more dragons.
Guests
Shai Williams
Kathy Lindemer
Anita Rao
Kelly Rodgers
Tammy Adams – you are here!
AJE Team
Susan
Jenny
Cathy
Jen
Niky
Diana
Laney
Caroline
Claire