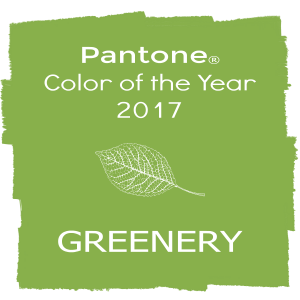 Every month, Erin Prais-Hintz offers a new inspiration for an earring design challenge on the Earrings Every Day blog.  The inspiration this month is the Pantone® Color of the Year for 2017: Greenery.  
According to Pantone, this is a "life-affirming" color:
A refreshing and revitalizing shade, Greenery is symbolic of new beginnings.  Greenery is a fresh and zesty yellow-green shade that evokes the first days of spring when nature's greens revive, restore and renew.
I am more partial to the colors leaves turn in the fall than the vibrant greens of spring buds. But this is a perfectly nice color nevertheless.  And, as it turns out, it's a fairly close match to Premo! Accents® Bright Green Pearl polymer clay.
I usually mix my polymer clay to get desired colors.  For this earring design challenge, I opted to use the Bright Green Pearl straight from the package.  However, I did dress it up with some silk-screened botanical prints.
My first effort didn't turn out as envisioned.  The color of the gold paint was too close to the color of the green clay and I didn't get a good contrast from the silkscreen design.  So I didn't bother to make earrings with the discs I made.
After I switched to using chalk pastels to silkscreen the patterns onto the clay, things turned out just the way I hoped and I ended up with two lovely pairs of earrings.  Btw, I learned all about how to silkscreen on polymer clay from this awesomely comprehensive e-book by The Blue Bottle Tree.
I kept the earring designs simple, despite my usual urge to add all kinds of dangles.  In the end, I realized the simplicity of the design is more fitting for the feelings this color is supposed to evoke.
I'm not anywhere near ready to begin thinking about spring. It's the middle of winter and we've barely had a dusting of snow, with temperatures being well above average most days.  I love winter, and snow.  Spring foliage is lovely, but it makes me sneeze and itch and wheeze.  However, these earrings definitely make me think "spring." Pantone calls this color "nature's neutral" and I think these earrings would go nicely with a wide range of spring fashion.
As always, many thanks to Erin for the design inspiration.  Be sure to hop over to the Earrings Every Day blog to see how she interpreted this challenge.