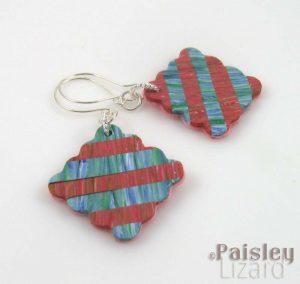 Each month Erin Prais-Hintz chooses a theme and challenges us to design earrings inspired by it.  The theme for this month's We're All Ears earring design challenge was "patchwork."  I've noticed a bit of patchwork showing up in clothing fashion lately and had been pondering how to create some earrings in that style.  The images Erin shared for this design challenge were exactly the push my muse needed.
I've watched a few videos for a polymer clay technique using scrap clay to mimic bargello.  In quilting, bargello is a technique that uses strips of fabric in assorted colors, sewn together to create movement in precision geometric patterns.  I didn't quite manage a bargello effect with my strips of clay (more on why in a minute), but I did get a nice patchwork effect.
Why didn't I get the bargello effect with my clay?  I didn't like how my first attempt turned out (and I'm sorry I didn't take photos) so I re-mixed my clay scraps to try again. In the process, I blended the scraps a bit too much and lost the wider bands of color separation needed to mimic bargello.  Fortunately, one of the great things about polymer clay is that even when you mess up Plan A, very often Plan B turns out just as well.
Although it's barely mid-February, there are already abundant signs of spring here.  We've had an unusually mild (i.e., warm) winter and the ground never froze.  So, bulbs are blooming and trees are budding weeks ahead of schedule.  Those spring colors were the inspiration for my patchwork color palette.
Initially, I wasn't going to add a backing to the strips of clay I was patching together.  But then I got nervous that no matter how well I thought I had smushed the edges together, they would come apart with pressure.  Not that expect my customers to try to break my jewelry, but better safe than sorry.  And besides, every quilt has a backing.  So, my patchwork earrings have solid backs in coordinating colors.
I used a hexagonal shaped cutter for most of my focals.  It seems like a shape you would see in a patchwork quilt. I also made one pair using a square cutter, with ric-rac edges.
I plan to try the bargello technique again some day.  I know what I did wrong with the original sheeting of the clay scraps so it shouldn't be too difficult to get the desired results next time.
As always, I had a lot of fun designing earrings for this challenge.  The patchwork theme inspired me to try a new technique and I made some fun earrings.  Many thanks to Erin for the inspiration.  Be sure to visit the Earrings Every Day blog to see what she did with this theme.