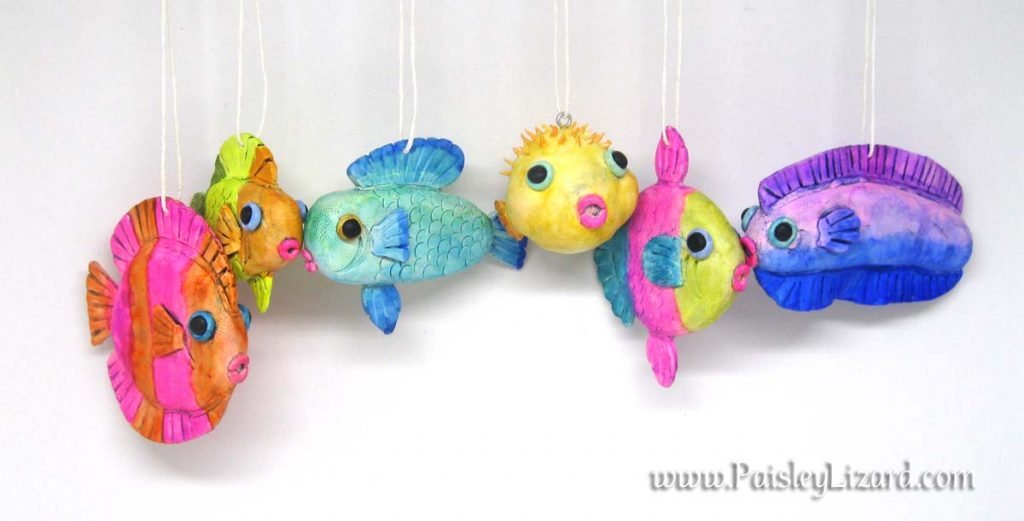 When I saw that the Art Elements team chose ornaments as their theme for the winter design challenge, I signed up right away. I was already planning to make some, and having a deadline never hurts when you tend to procrastinate as I do.
My original plan was to make a batch of tangram critters from polymer clay. I have a few cookie cutters that are already sort of the right shapes. I started with the fish-shaped cutter. And that's as far as I got with my tangrams.
For my first tangram fish attempt, I wasn't happy with the colors I used, and I felt the overall shape needed to be broken into some smaller polygons for better effect. I liked my second attempt better in terms of the number and size of the polygons making up the fish, but I still wasn't thrilled with the color arrangement. And I never made it to attempt number three because I got sidetracked making a different sort of fish.
Two years ago I sculpted a batch of whimsical sort of primitive fish, as a custom order for my acupuncturist.  She has them hanging in her lobby and treatment rooms.  Some people who saw them, or photos of them on my social media, expressed interest so I thought I'd make more this year.
They are super fun to make, but somewhat time consuming. I only completed six.  I really need to plan better and start making ornaments in the spring rather than late fall, and make fall-themed jewelry in the spring, not late summer, etc. Maybe some day I will get on a schedule.  Although, if I haven't managed it by now, how likely is it, really?
I used some reference photos of real fish, but did not make realistic fish, if that makes sense.  Realism is my preferred form of art, but it is beyond my abilities.  Or possibly, beyond the limits of my patience to practice and learn.  So, whimsical is what you get, with pouty fish lips and great big googly eyes in colors not found on any species in the wild.
Each fish begins as a lump of crumpled aluminum foil armature, which I cover with white polymer clay to make the general body shape. I add fins, eyes, lips, and texture before curing. After the fish are cured, I paint them with alcohol inks. The colors are a little unpredictable, with some turning out much lighter than in the bottle no matter how many layers are applied. It's a bit of trial and error.
After the inks dry, each fish gets a couple coats of matte polyurethane to keep the colors bright and true.  If I had sculpted them from colored clay, that wouldn't be necessary, because polymer clay colors don't fade over time.  But I like the freedom to sculpt in white and choose my colors later. I also like the effect of coloring with inks and adding a little antiquing with acrylic paints to bring out the details.
That's the end of my fishy ornaments for this challenge.  But it isn't the end of the handmade ornaments for this theme.  Be sure to visit the Art Elements design team and other participants listed below for more amazing ornaments.  My whimsical fish ornaments are available in my shop on etsy.  It's too late to order them as gifts for this year's tree, but they also make fun home decor any time of year.
Paisley Lizard  <–you are here!