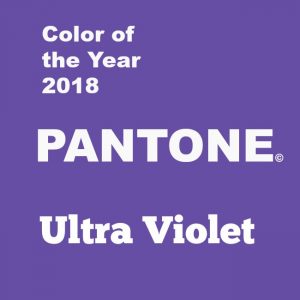 The inspiration for the January We're All Ears earring design challenge is Pantone's Color of the Year for 2018: Ultra Violet.  Pantone describes Ultra Violet as a "blue-based purple that takes our awareness and potential to a higher level."  I'm not sure my earring designs for this challenge are consciousness-altering, but I did feel extra creative working with this color.
I have a large assortment of purple beads in my stash, including some natural and dyed gemstones and various shapes of Czech glass.  Naturally, that meant I needed to spend hours creating my own beads and not use any from my stash.  At least I didn't go on a purple bead buying binge.
I began by making some petal-shaped focals in polymer clay. I colored them with chalk pastels and gave them a faux ceramic glaze finish.  I used fuchsia pinks with the violet purples to give them a little dimension. My purples are not an exact match to Pantone's color, at least not the color I see on my monitor.  It's possible to mix a close polymer clay match by converting Pantone's CMYK color formulas to the corresponding proportions of primary clay colors.  That was more math than I was in the mood for this month.
Despite having plenty of gemstone and glass beads in my stash that would have coordinated perfectly well with my polymer clay petals, I absolutely had to make an assortment of polymer clay accent beads.  I've been on a bit of a creative hiatus since moving last spring and it seems this challenge really kicked my muse into high gear.  I made at least four times as many accent beads as needed to pair with my petal focals.  That's how it goes when you aren't entirely sure how the final design will come together.
I did end up using a few beads from my purple bead stash, to accent the accent beads. And I added some antiqued copper and brass bead caps and spacers to finish off my statement dangle earring designs.  I'm not great at coming up with poetical names for my jewelry. I'll just go ahead and show you the earrings, with a description of the components, and let you call them whatever inspires you.
I know I've mentioned more than once on this blog that one thing I truly love about polymer clay is its ability to mimic the appearance of so many other things.  For today's earrings, I have used faux ceramic, faux glass, and faux enamel techniques with my polymer clay focals and accent beads.
I used some glittery inclusions in some of the polymer clay accent beads.  Pantone's imagery and description of Ultra Violet seemed a little "out there" in an outer space kind of way.  Starry beads seemed appropriate for a color that "suggests the mysteries of the cosmos, the intrigue of what lies ahead, and the discoveries beyond where we are now."  Don't you think?
I initially intended to incorporate at least one of the color palettes Pantone suggested for pairing with Ultra Violet into my designs.  They have some dreamy color combinations like Purple Haze, Kindred Spirits, and Desert Sunset.  I did make a set of swirled accent beads inspired by Purple Haze, which I used in one pair of earrings. But mostly, I got carried away by the vivid purple-pink combo.
I don't know why I made little bird-shaped beads in addition to the round and rondelle accent beads. I've never made bird beads before. But they are surprisingly easy and almost addictively fun.  And they go nicely with the flower theme I have going on here.
I have several hours of photo-processing and description writing ahead of me before I can get these earrings listed for sale online. Be sure to check my etsy shop in a couple days if you're interested.
And be sure to hop on over to the Earrings Every Day blog to see what our hostess for this challenge, the very talented Erin Prais-Hintz, created and then visit the other participating artists links to see more Ultra Violet inspired earring designs.