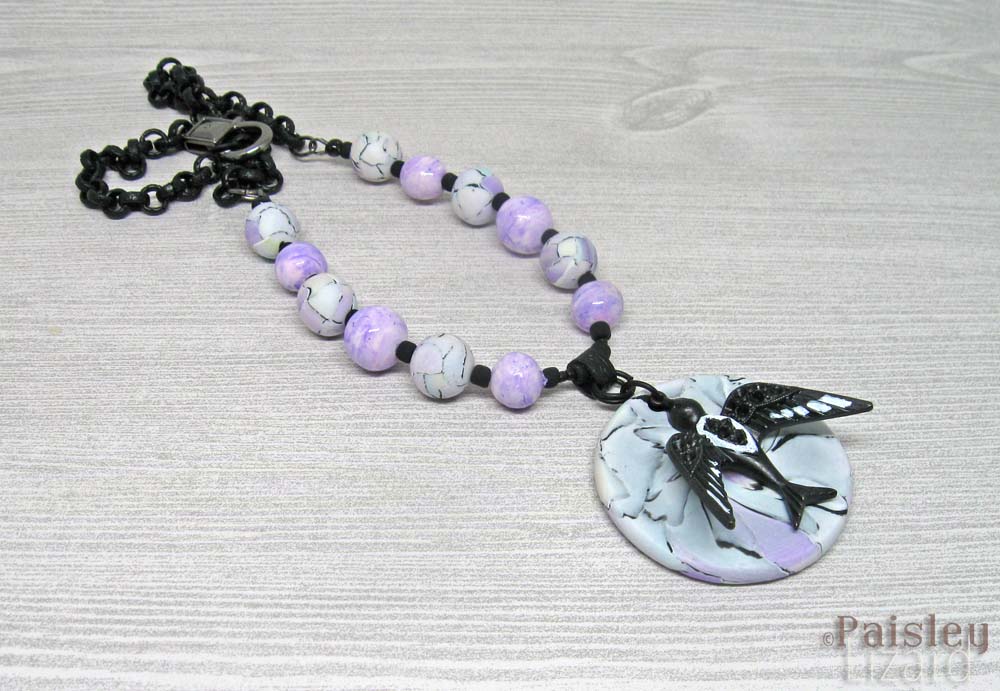 Last week I showed you some polymer clay beads I made using the watercolor or torn paper technique. Today I turned one of the pendants and some of the beads into a necklace.  Both the beads and the necklace were inspired by the same design challenge on Art Bead Scene this month.
As a reminder, here's the inspiration image, which is a watercolor illustration by Warwick Goble, called Star Lovers.  In the painting, a woman (she's a goddess) is being carried across a starry night sky by a flock of magpies.
When I made the watercolor beads, I was focusing on the overall color palette.  But the entire time I was making them, I was thinking about the magpies.  Should I make some blackbird beads?  A magpie feather, maybe?  I couldn't stop thinking about those birds.  Which prompted me to remember that I bought some matte black bird charms a year or three ago.  Now, where did I put them?
Luckily, I found the blackbird charms in the second place I looked.  Phew.  I sort of wanted to add some white paint to make the blackbird look more like a magpie.  I deliberated about that for a while. I even put the necklace together with the charm "as is" in solid black.  I didn't want to risk ruining the charm.  However, I did have a spare, so in the end, I went ahead and painted one.  I'm glad I did. It really makes her stand out more against the watercolor background.
In addition to the polymer clay pendant and beads with the watercolor veneer, I made some faux glass beads in a periwinkle or soft lilac purple.  These faux glass beads are polymer clay with alcohol ink.  I used some matte black seed beads for spacers between the larger polymer clay beads.  The back of the necklace is finished with textured matte black rolo chain and a large lobster clasp.  The one-of-a-kind necklace is available in my etsy shop.