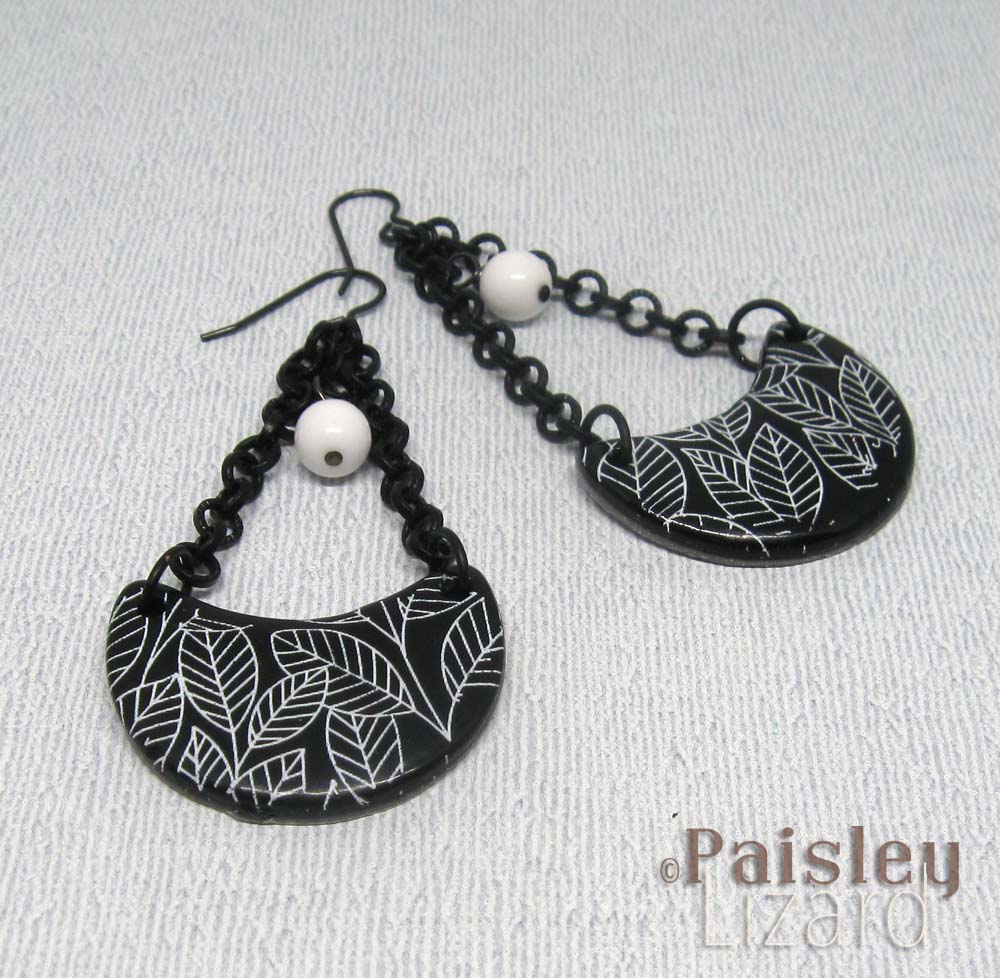 The theme for this month's We're All Ears earring design challenge is "black and white."  I made a batch of black and white components using silkscreening and polymer clay.  I turned some of those components into earrings for this challenge.  Mostly not in the way I had initially planned.
My initial idea was to make pairs of earrings that mixed patterns and textures, pairing black-on-white components with white-on-black of the same leaf print.  Or pairing the small leaf print with the large leaf print.  Things rarely go according to my initial plan, partly because I don't always have a good idea how to execute an idea except via trial and error.  I don't have formal art training, unless you count that semester of art in high school where I accidentally made my mom a "moldy apple" ceramic pencil holder when the glaze didn't go according to plan.
After my polymer clay focal components were done, I stared at them and thought "What the heck was I thinking?  I have no idea how to put these together to make earrings."  I started to make some accent beads, to add some texture and more patterns.  I don't have any photos of those because what I got after two hours of trying was a big pile of black and white scrap clay.  So I switched gears and raided my stash of glass and gemstone beads and started with some simple dangle earring pairs.
"Simple" earrings are the most difficult for me to make.  I feel as if I haven't worked hard enough if the design doesn't have all kinds of bells and whistles.  And yet, I own and wear more than a few pairs of "simple" earrings. There's nothing wrong with simple, if the design is good. Maybe on some level I am uncomfortable with simple because I am not as confident about my design abilities as I would like to be?
I've heard and read that designing without color forces you to focus more on the composition.  That makes sense.  It is often the color of a thing that first catches our eye.  And it can be very easy to rely on color to compensate for lazy design. If your focus is on the brilliant blues, vivid violets, rich reds, etc., you may not be paying as much attention as you should to things like balance, space, line, form, and overall harmony of a design.
After making a few pairs of simple "beads on a wire" style earrings with round or teardrop shaped focals, I switched to the semi-circle or half-moon components.  As I was making them I was planning to have them hanging vertically, and pair two semi-circles connected with a jump ring.  When I tried that, the balance was off, visually and literally, so I had to come up with a different way to hang them. That's where the trapeze style came in.
Despite having a whole large drawer of assorted black and white beads, I had a tough time finding the right ones for the trapeze wires.  If I had the right size and shape of white beads, I didn't have the right size or shape of black beads, and vice versa.  It's not unlike the reason I need five pairs of black shoes: flats, heels, lace-up ankle boots, tall boots, and cowboy boots.  No single pair of black shoes can possibly work with the variety of clothes in my closet.
After much trial and error, including a small pile of waste wire from do-overs, I finally found some accent beads that were good enough. I really think I should have gone bead shopping.  That's the only way to be sure you haven't overlooked the perfect beads for your design.  Right?
After feeling less than satisfied with my accent bead options, I tried some chain and finally had a design I felt completely satisfied with.  Not too simple, not too busy.  I toyed with the idea of re-doing all the other pairs using chain instead of beads, but I resisted.  While not every pair of earrings I made for this design challenge is a show-stopper, they don't always have to be.
Overall, I'm happy with the way my silkscreened polymer clay components turned out even if I didn't use them the way I thought I would.  And I once again had fun with a design challenge.  Many thanks to Erin for another inspiring theme. Be sure to hop over to the Earrings Every Day blog to see how she interpreted this challenge, and then follow the links at the end of her post to see more earrings by other artists.  And if you're interested in my black and white earrings, you can find them in my shop on Etsy.