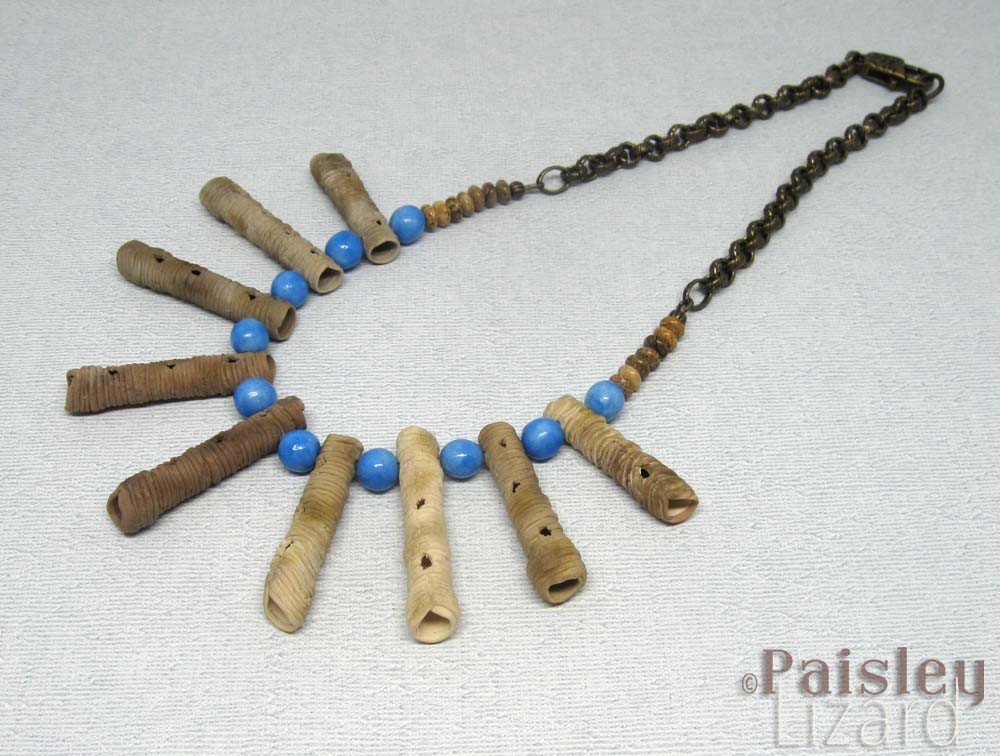 The theme of the month for Art Elements' March design challenge is "nests."  Even before I signed up to participate I knew I didn't want to make a typical bird's nest for my design.  I've made wire-wrapped nests with bead "eggs" before, including as a component in a spring-themed necklace for a past Art Elements design challenge.  They're plenty of fun to make, but I wanted to try something new for this challenge.
I started my jewelry design process by thinking about which animals other than birds make nests.  And the first thing that came to mind was "wasp nest."   Rather than dismiss the idea and keep brainstorming, I did an image search on the internet.  The nests made by mud dauber wasps are spectacular. I was especially taken with the "organ pipe" mud dauber constructions.  (There are no insects visible in the photo, only mud tubes.)  They were the perfect inspiration for organic beads.
Warning:  If you are creeped out by insects, or photos of insects, you probably shouldn't click on the links below with reference to wasps or wasp nests or bees or beehives.  Just sayin'.  There are no photos of insects in this post. I linked to other pages where you can see them if you are interested.
Female mud dauber wasps make their nests by bringing mud, or preferably clay, one mouthful at a time to a selected spot such as the sheltered side of your home. I am humbled to note that these insects make much more consistently-shaped structures with their mouths than I could with my hands.  I'm also fairly certain a single wasp could have made three times as many nests in the time it took me to make my beads.
Did you know mud dauber wasps are also called potter wasps? I wonder if humans got the idea to make vessels and things from mud/clay by observing wasps?  Also, they are solitary or eusocial, meaning they don't form or live in hives.  Consequently, they don't defend hives and are generally known to be docile and only sting if you mishandle them.  They're also considered beneficial garden insects because they control spider populations.
My wasp nest-inspired beads are hollow, just like the actual nests, and I did form them one row at a time, just like the wasps do. Unlike the actual nests, which are built against a flat surface and therefore "backless", my beads are complete tubes.  Also unlike the actual nests, my tube beads are open at both ends.  The female wasp seals the top and bottom of her tubes to protect her eggs as they mature.  Also, unlike the actual nests, my beads don't have paralyzed spiders or "garden pests" in them as snacks for hatching wasp larvae.
When I was making the tube beads, I planned to turn them into a pendant by attaching them to a piece of "house"  made of polymer clay to resemble weathered wood shingle.  That didn't turn out the way I envisioned and Plan B emerged, in which I used the tube beads in a fringe- or fan-shaped focal.
One species of organ pipe mud dauber wasp is black with gorgeous iridescent blue-black wings, which gave me the idea to accent my tube beads with black or iridescent blue beads.  I didn't want to be overly literal, but I did happen to have some AB Czech glass beads that were a pretty close match to the blue-black wing color. But they didn't look right.
I auditioned some turquoise, which in my opinion goes with everything.  I didn't like it as much I thought I would. Finally I decided to make my own blue beads. They aren't the dark iridescent of the wasp's wings. Rather, they're more of a blue sky color, which I think brightens up the design without overpowering the focal beads. I finished the front of the necklace with some brown jasper rondelles, and the back is textured antiqued brass rolo chain finished with a lobster clasp.
After I made the tube beads and before I settled on the final necklace design, I made more wasp nest beads.  These are inspired by paper wasps, which make ovoid or spherical nests from plant fibers.  Some people probably associate this nest shape with bees rather than wasps because the illustrations for things like Winnie the Pooh depict beehives in this shape.   Actual beehives don't resemble that shape.  But you know, artistic license.  The beads, which I turned into dangle earrings, are polymer clay painted with Swellegant bronze metal coating.
After I made the wasp nest beads that resemble what people think bee hives look like, I decided I should probably make a bee hive-ish bead.  If you do an image search for wild bee hives (assuming you aren't freaked out by images of bees) you will find they are not shaped the way they are in Winnie the Pooh.  At all. They are flattened lobe-like structures that seem to drip from branches.
If you're familiar with raw honey, you probably know it isn't "honey" colored.  That is, it's not the rich amber color you find in bear-shaped squeeze bottles in the grocery store.  It's pale yellow and milky. I had some trouble getting my polymer clay "honey" and "beeswax" pale enough. It's still a work in progress.  I'm probably working on a new recipe even as you read this post. I am determined to make my "vision" come true on this one. So far, I've made three attempts, which I'm sharing with you here.
There is one type of bee that makes spiral hives, but they still don't look like the hives in Winnie the Pooh.  The Australian stingless bee builds its hives on the ground in the shape of a spiral.  I had some engineering challenges trying to duplicate the spiral shape.  And I still was not getting the color of honey I was after.
I am not a patient person, and as a result I did not test cure my tinted polymer clay before spending hours sculpting the spiral hive pendants. If I had, I would have known the clay was going to turn out more orange than I was intending and I could have color-corrected before it was too late.  C'est la vie.  I think I have a good reason for not curing test swatches, ever.  It wastes energy to warm up the oven for a 15-minute bake.  So while I'd like to say, lesson learned and from now on I will test swatches, I probably won't.  But I might use my heat gun to cure a small drop of the tinted liquid clay before painstakingly adding it one drop at a time to each hexagonal-shaped well of pendant Version 3.  Maybe.
I hope that even those of you who don't admire wasps and bees as much as I do can still appreciate my nest jewelry designs.  Maybe if you think of them simply as random organic structures?  As a reward for making it all the way to the end of what may have been a creepy-crawly post for some of you, I made some innocuous bird nest charms to leave you with happier thoughts.  I didn't turn them into jewelry because I think I'm going to put them in my Bead Shop.
Thanks for visiting my blog today.  This post is also part of a blog hop, so be sure to visit the other participating artists for more nest-themed art.  I'm reasonably certain there won't be more mention of wasps or bees. 😉
Guest Participants
Tammy <– you are here!
AE Team Members