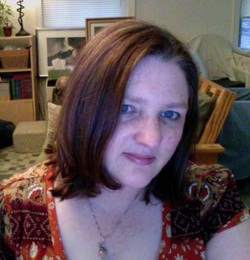 I am Tammy Adams, the designer, photographer, copy editor, packing and shipping clerk, social networking and advertising coordinator, page administrator, book keeper, etc. for Paisley Lizard.
I have degrees in Biology and Wildlife and Fisheries Science, which have nothing to do with making jewelry. I was born and raised in the desert southwest, and transplanted to the mid-Atlantic by my choice of schools and career.
I've taken a few intro to wire and polymer clay techniques classes, but am largely self-taught. My original jewelry designs are inspired by an eclectic mix of colors, patterns, and themes in nature, textiles, and pretty much anything that catches my eye or captures my imagination.
---
My "style" is as diverse and eclectic as my inspiration. In my jewelry, you will find a range of southwestern/boho, vintage, steampunk, glam, naturistic, organic, geometric, etc. There's something for every one and every occasion. If there's a unifying theme to my jewelry designs, I like to think it's my attention to detail and making stylish wearable pieces that are as unique and original as the people who will wear them.
Everything is handmade by me in my home studio, which is a combination of a table by a window in my dining room (for bead stringing and wirework) and my kitchen counter (for things messier than beads and wire, like polymer clay, and resin).  I am assisted in my work by two rescued cats, Design Consultant Cloud and Inspector Mango.
---
Just as I can't settle into a single style of jewelry, I can't limit myself to a single creative outlet. I also make polymer clay and mixed-media jewelry and keepsake boxes, ornaments, photo frames, and hand-painted buttons. You can find these items in my Etsy shop when they are in stock. I also love to bake: mostly gourmet cupcakes. I sometimes sew: mostly Halloween costumes and gowns for Renaissance Festivals. I am sorry to say, you will not find cupcakes or costumes in my Etsy shop. Cupcakes don't hold up well to shipping. And I only make costumes for myself. And sometimes for friends.
My designs are one-of-kind. Many cannot be reproduced due to the unique nature of the natural gemstone beads and handmade components I prefer to use. Even if I could make the same thing again, I can't. I have so many designs in my head and sketch book that if I stop to repeat myself, I will never catch up to my myself.